Please sign in so that we can notify you about a reply
CS-Cart video manager add-on allows you to add videos to products and as a block on any page in the most simple, fast and logical way. Supports videos from video services like youtube and vimeo.
Merchant Benefits
Let your customers watch your products in use. Video is a way more informative and effective than text or images.
Thanks to the video mass-adding function you can easily assign video to products. You are free to assign the same video either to one or to several products at once. Also, you can add personal videos on the detailed product page in a separate tab Video Player.
An additional tab with the video automatically appears on the detailed product page. Video can be displayed either as iframe or as pop-up window. Available settings are listed below on the image.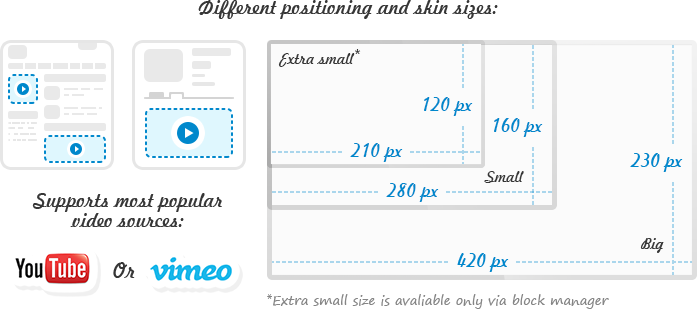 An additional option of the module is an opportunity to add individual videos as a block on any page.
Why the module does not support local video? Because the use of third-party services is more convenient: your videos are stored on external servers, there's no traffic restriction, and it's an additional opportunity to attract new customers and to promote your website.
Main Features
New! Bulk video addition
Unlimited number of videos
Supports YouTube video
Supports Vimeo video
2 video box (thumbnails) themes
Thumbnails open videos in popup windows
Supports iframe video display
Available to use on product page as separate tab
Associate as many videos as you like with a product
Add videos individually for each product
Defines sort order and status for each video
Option to select video theme for product page
Option to select video theme in block manager
Supports different themes in several blocks
Supports multi videos on the same page
Available to use on different pages via block manager
Doesn't affect CS-Cart core files
How it works
Upload add-on files from the archive to the server
Install the add-on in the add-ons section
Configure the add-on
Add videos to the products or blocks with video
On our website page you can view video tutorials for the add-on
Customer Benefits
Allows your customers a convenient way to get to How-To videos, video reviews, product demonstrations, or any other videos your customers may want to see.
Need help?
This CS-Cart add-on is developed and published by CartTuning, CS-Cart developer.
You are guaranteed to buy a quality add-on and to get fast and efficient tech support in case you need it via our help desk system.
Compatible versions
4.2.4

4.1.5

4.0.3

3.0.6

2.2.1
CartTuning
CartTuning is reliable partner that offers an extensive selection of cs-cart addons and templates with a wide range of services.
CartTuning is reliable partner that offers an extensive selection of cs-cart addons and templates with a wide range of services.