Please sign in so that we can notify you about a reply
Extension to CS-Cart and Multi-Vendor allows integrating store with opinion management system Trustmate.io.
To use add-on, an account in https://trustmate.io is required to obtain unique company UUID.
We start from installing an extension:
In add-on configuration we type UUID obtained from Trustmate.io.
Add-on works in the background - after placing an order, Trustmate system receives a customer e-mail address. Code snippet responsible for sending this information is visible in site source code.
Trustmate after certain time (defined in configuration of Trustmate panel) will send a request to customer's e-mail to fill the survey.
We invite you to shopping!
Product
CS-Cart

Multi-Vendor

CS-Cart Ultimate

Multi-Vendor Ultimate

Multi-Vendor PLUS
Compatible versions
4.15.1

4.14.3

4.14.2.SP1

4.14.2

4.14.1.SP1

4.14.1

4.13.3

4.13.2.SP2

4.13.2.SP1

4.13.2

4.13.1

4.12.2

4.12.1

4.11.5

4.11.4

4.11.3

4.11.2

4.11.1

4.10.4.SP1

4.10.4

4.10.3

4.10.2

4.10.1

4.9.3

4.9.2

4.9.1

4.8.2

4.7.4

4.6.3

4.5.2

4.4.3

4.3.10

4.2.4

4.1.5

4.0.3
SoftSolid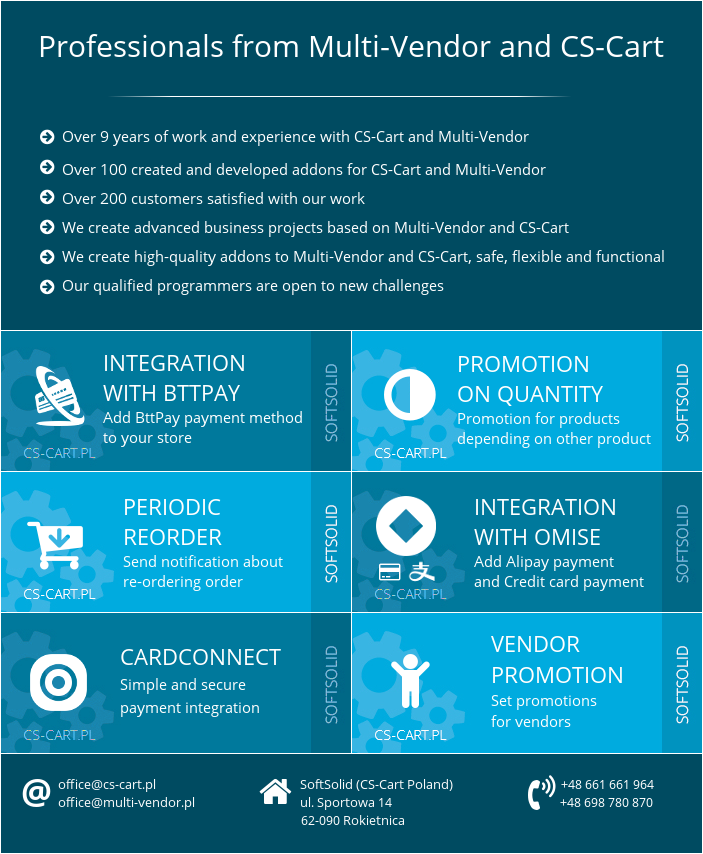 Our team created 100+ functional, original and useful Multi-Vendor and CS-Cart addons. Since 2010, when SoftSolid became CS-Cart and Multi-Vendor official developer, we deliver you professional solutions for e-commerce projects. The highest quality of our projects is confirmed by dozens of satisfied customers. We always try to make our addons intuitive and user-friendly and skilled programmers in our team can create almost every addon that you may need. Contact us