ENERGOT - Advanced Theme For CS-Cart & Multi-Vendor
Please sign in so that we can notify you about a reply
KEY THEME FEATURES
Ready for CS-Cart 4.11.3 and Multi-Vendor 4.11.3
Responsive design
RTL languages supported
3 Skins available
5 Professional theme styles per skin
Unlimited colors. Complete recoloring power
Sticky Menu - main menu always visible
Built -in Cookies Law Pop-up
Dynamic product grid buttons: customizable colors
Image Lazy Loader for fast page loading
Advanced Search and Mega Menu Image addons
Easy to install and customize
Full documentation included
ENERGOT - Multipurpose Responsive CS-Cart theme
If you have just decided or have in mind to start your own shop, or a shop for a client of yours, selling any product, like fashion products, clothes, watches, sunglasses, footwear, lingerie, home stuff, electronics, multimedia or technical items, products for kids, gifts, or any other items, then ENERGOT is the perfect template for you to quickly and easily create an ultra professional, beautiful and clean web store.
ENERGOT is a beautiful, professional and clean responsive template designed for CS-Cart and Multivendor. Having a very easy to use layout, it is able to catch any visitor's attention through the design quality and beautiful color combinations. The theme has a responsive design which adapts to any mobile devices for an improved user experience.
Included in the purchased package
1.Template package to install on your store;
2.Detailed installation and user guide documentation with dynamic links;
3.Two addons: Mega Menu Image addon + Advanced Category Search addon;
4.Sample data for an easy start (demo banners, store settings, content images, content pages);
5.One year of FREE updates.
6.FREE 30 days standard support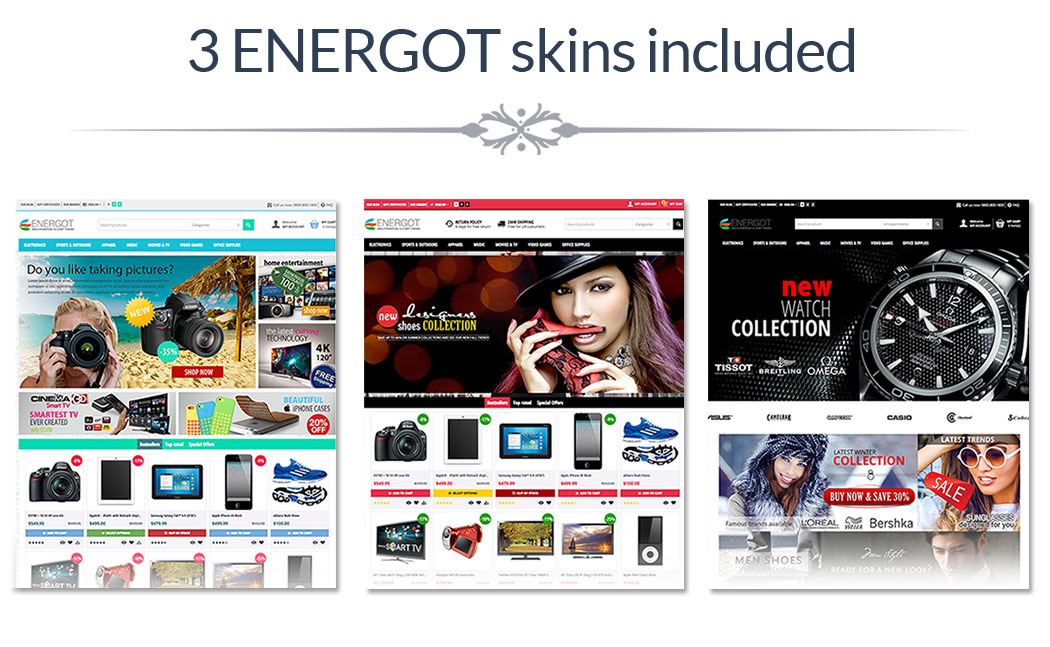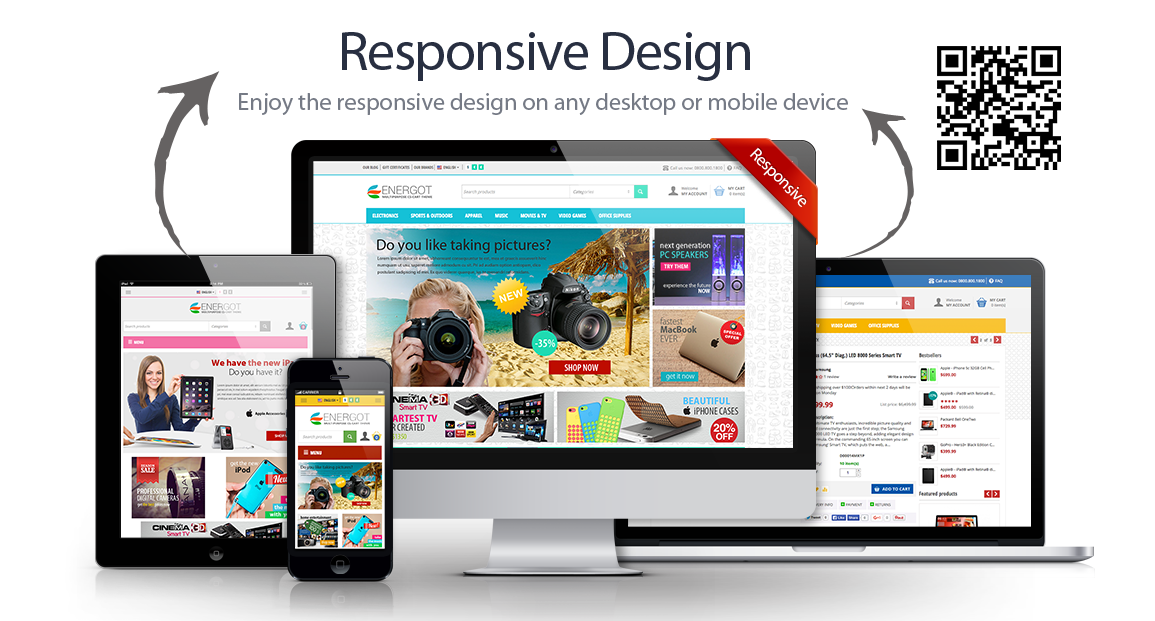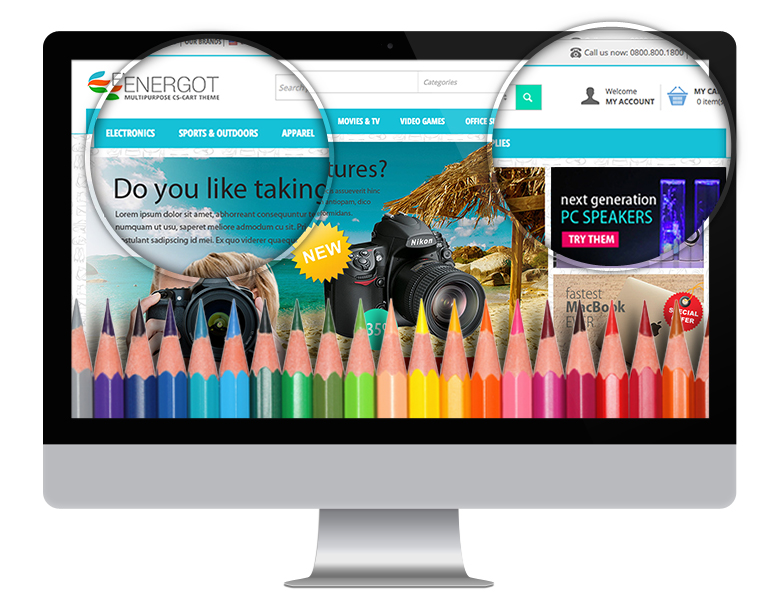 Unlimited Colors - Complete recoloring power
Imagination will be your only limit. There will be unlimited colors available for you to customize your store according to your own best needs and wishes. Practically, with no programming knowledge, you can change your store look any time you want.
We have added several additional customizing options the CS-Cart default customization panel. You can easily recolor the theme thus always come with a new design in order to impress your clients and keep them coming back and buy again from your online shop.
Also, you should know that statistically, you have 3 seconds to make a new user stay on your site after landed on any page of your site. The way your store looks is also a part of the things needed to make them stay.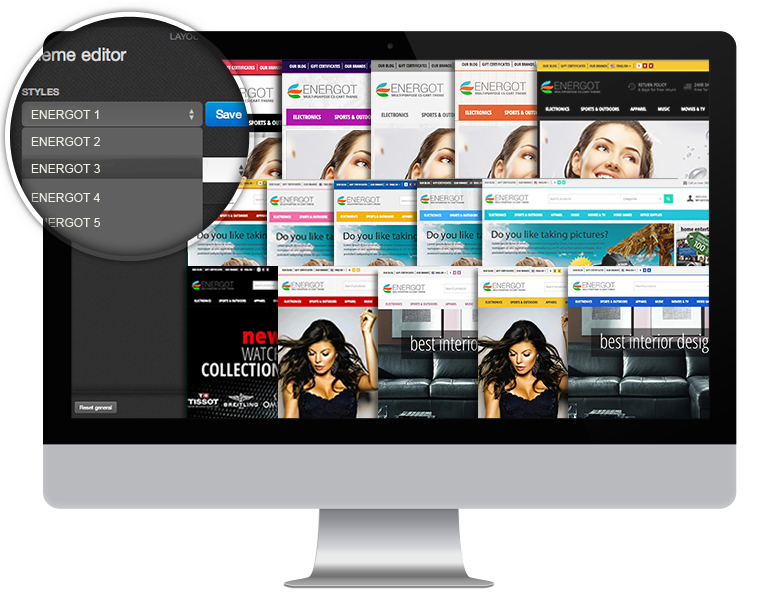 5 Professional Theme Styles Per Skin Included
ENERGOT theme comes with 5 ready-to-go professional styles, virtually created to fit any type of store. One single click and your store gets a complete new design. We have added these styles to ENERGOT in order to save your time dedicated to store customization, thus having more time to concentrate on your business itself.
All of these styles can be fully or partially edited to even better fit your needs. Also, we have locked them in the theme customization panel, so in case you bring custom changes to any of the 5 styles, they will be saved under your own style, and, if you ever want to return to the original 5 styles, you can always activate them back.
To see these presets, please go on the theme demo site and click on the "Theme Editor" button on the middle left side. Once the customization panel opens, browse between styles in the "Styles" dropdown menu.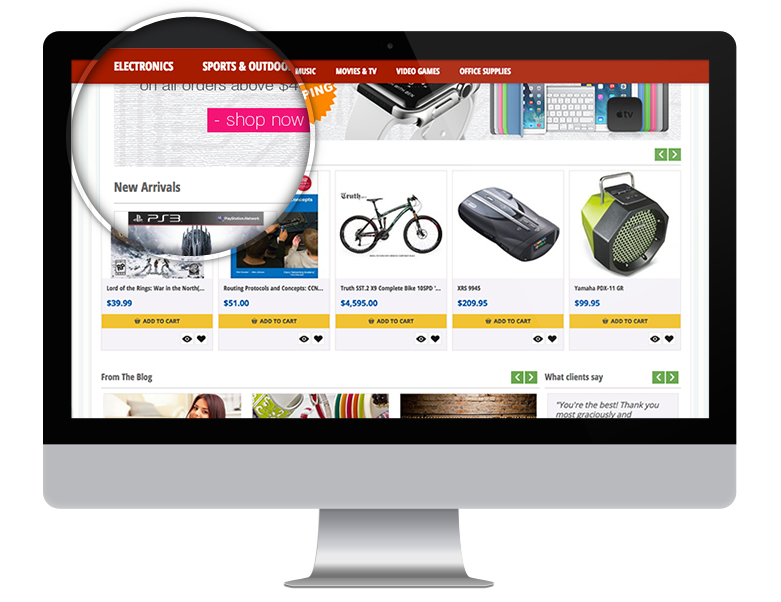 Sticky menu - Main Menu always visible
While your visitors browse your website and scroll down on a page, main menu always remains on top of the window. It gives more ease in navigation as users always have the main menu handy when they need to rapidly access a different category inside of your store. This feature is very useful especially for long store pages listing many products.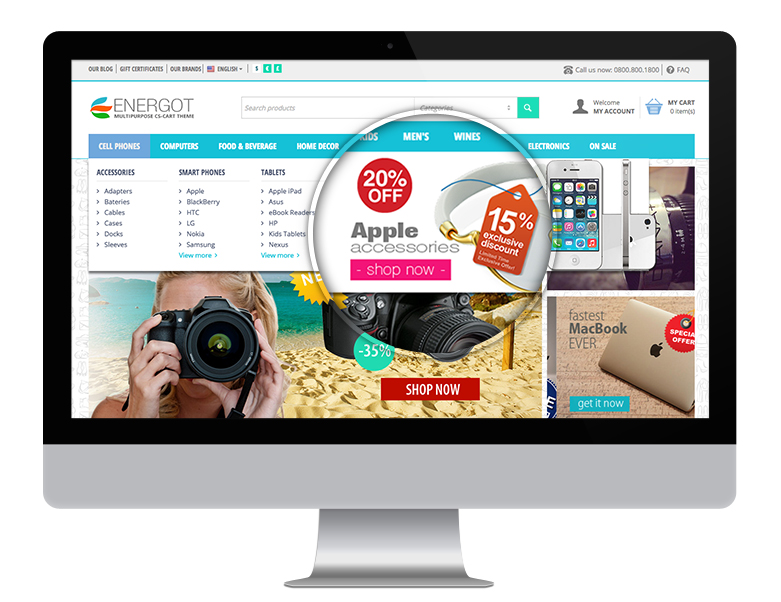 Mega Menu Customizations - Add Images & Colors
Inside of the ENERGOT theme package you'll find a Mega Menu Image addon created especially for our theme. Once you easily install it, you'll be able to add any image to the Mega Menu, this way giving an even better look to your store. You can assign any link to this image, promoting certain store categories, products or anything else. The image addon enables several options so you'll be able to position your image anywhere you want in the menu, you may even take it outside of the menu, as well as setting the menu window width and height.
Also, in the customizing panel we have included options to customize your Mega Menu colors, so you can add your own colors to the category links (both on active and on mouseover).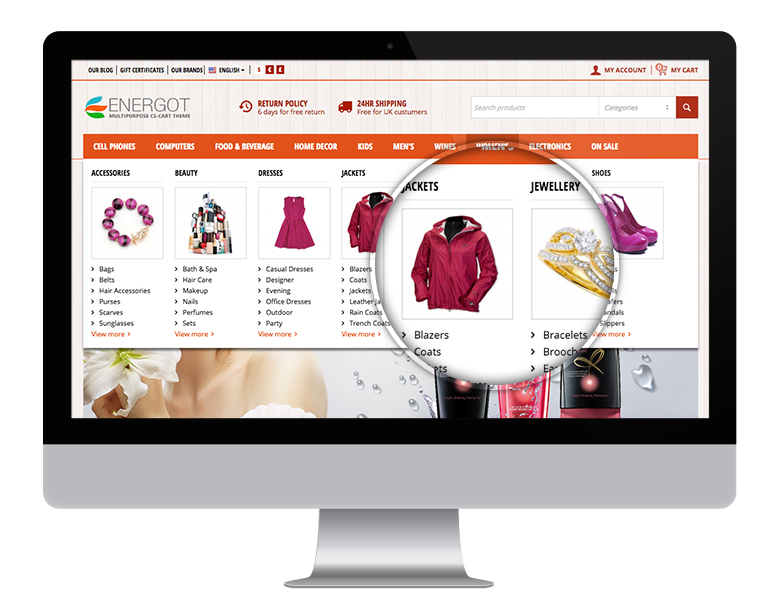 Category thumbnails in Mega Menu
Besides the images that can be added to the Mega Menu (using the included Mega Menu Images addon), all of your second level category thumbnail images will be automatically shown in the Mega Menu once you assign images to the respective subcategories, thus improving your store design quality and user experience. You may easily enable/disable these thumbnails with one click.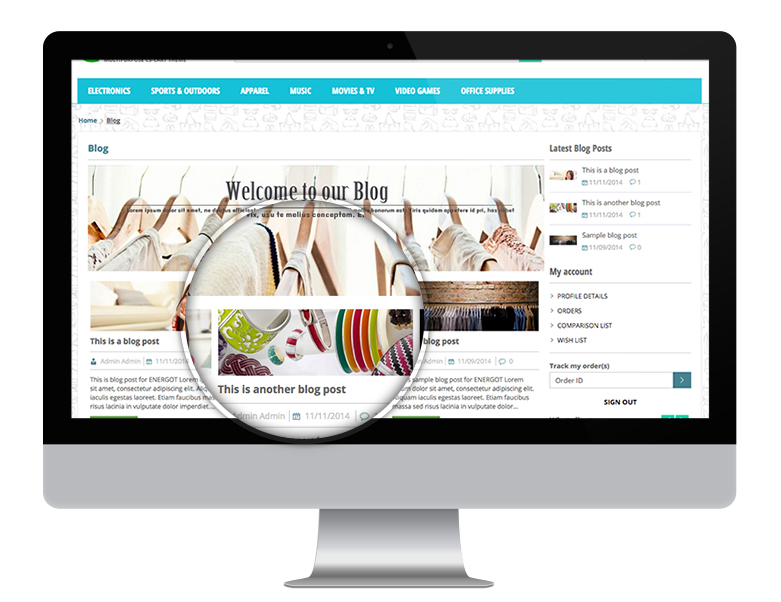 Blog
We all know how important the content is for search engines. Create SEO content and keep your clients informed through the clean and nicely designed ENERGOT blog pages. Add images, videos, text or any kind of HTML content. Also, let your users comment on your posts.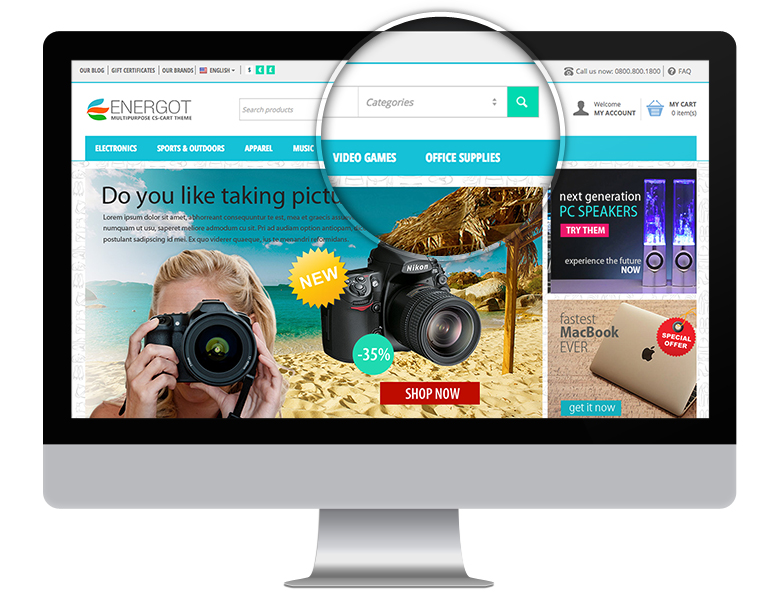 Advanced Category Search
Your customers need a more exact search to get the desired results faster. For this reason we have created an addon which allows your users to do a more exact search by looking for the desired products in a certain category. This addon comes together with ENERGOT theme and can easily be installed with a few clicks.
Using the Advanced Category Search, customers will save time and therefore increase their experience on your online store.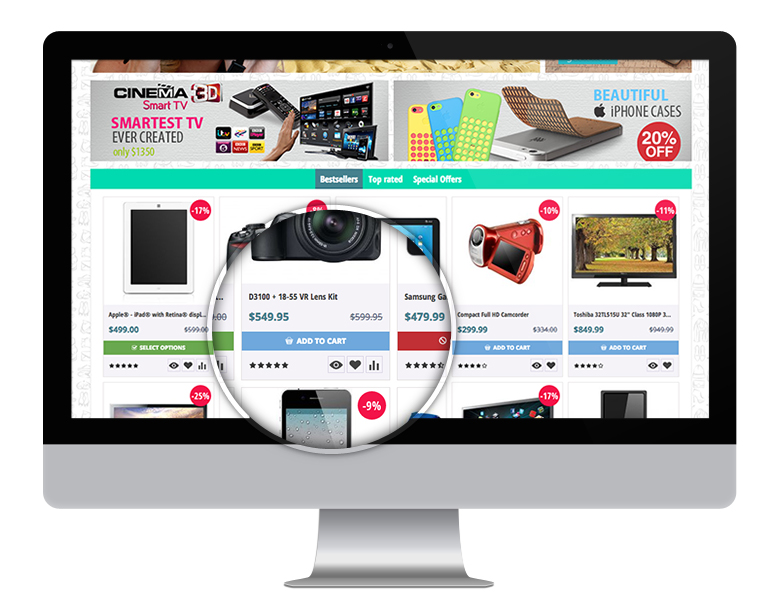 Dynamic Grid Buttons: customizable colors
This is a nice feature integrated in our ENERGOT theme. The grid buttons "Add to cart", "Select options" and "Out of stock" have been assigned different colors as well as icons, so that the site users may distinguish them, thus creating a better user experience. The colors of those buttons are inherited from the colors already chosen for your store, thus nicely being integrated into the general store coloring.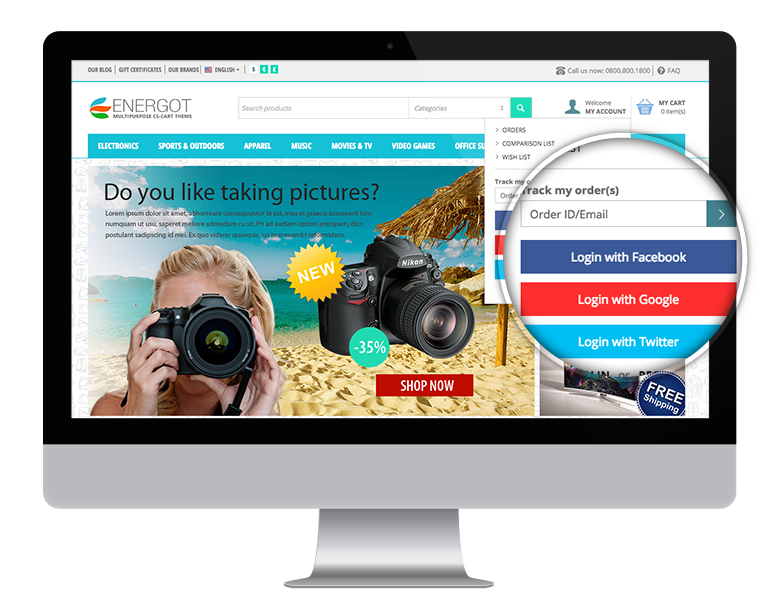 Social Login/Register Buttons
Nowadays, almost everybody has a social account and probably anybody who buys products online. Social Login/Register Buttons will allow your customers or potential customers to save even more time by signing in or register on your store easier and faster by simply using their social accounts, thus increasing again the user experience.
The Social Login/Register Buttons are included anywhere there is a sign in form on the theme, so your users will always have them handy once they decide to login or register on your store.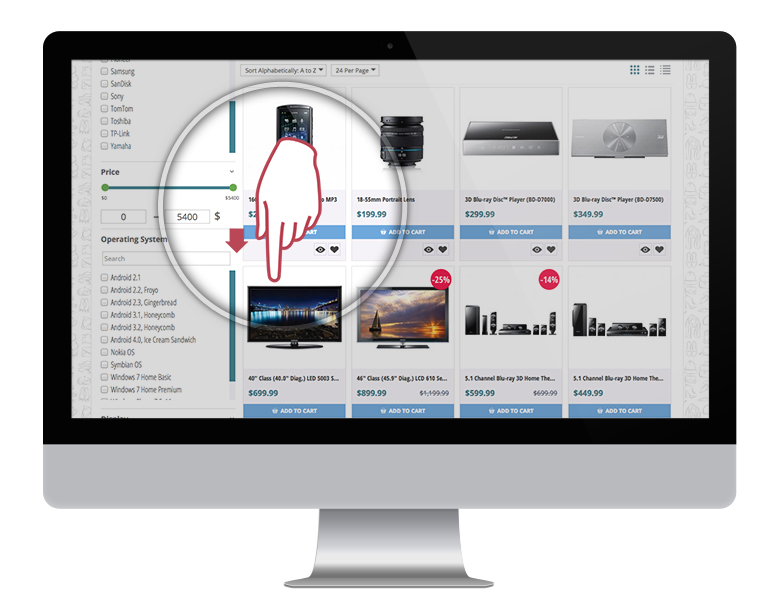 Image Lazy Loader For Store Fast Loading
Store loading time is one of the most important aspects of any site, be it a simple site, store or a multistore with tens of thousands of products and many lots of users. Regardless of the store size, it needs to load fast and therefore do all the necessary optimizations towards this.
One of the optimization which helps reaching this goal is the Image lazy Loader. Through this feature, all store images are loaded only when needed, meaning they will be displayed as you scroll down the page. By implementing this feature, we have reduced the number of on-load server requests. Of course, loading speed depends on other factors as well, like server connection, image sizes you use, etc, so results may vary on your site.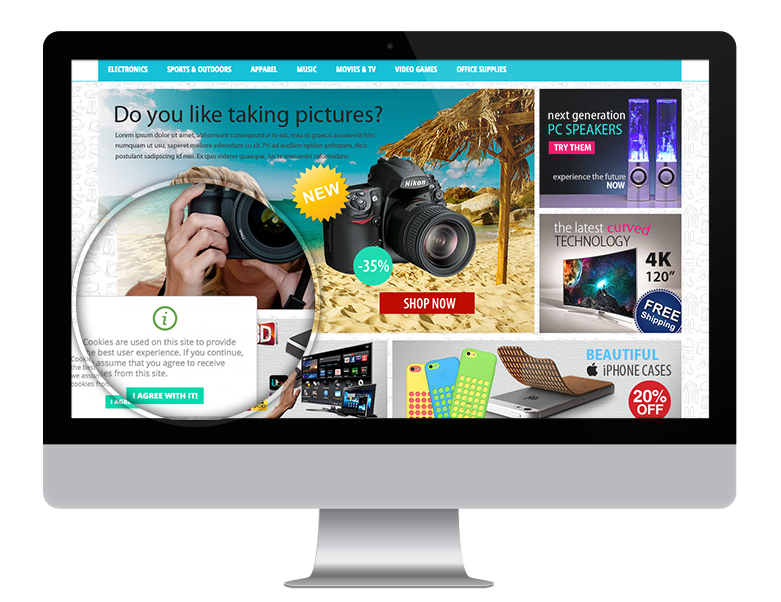 Built in cookie law pop-up
The Cookie Law is a piece of privacy legislation that requires websites to get consent from visitors to store or retrieve any information on a computer, smartphone or tablet. We have integrated a cookie law pop-up which includes your chosen text, as well as an icon and a button which inherit colors form your store, thus nicely integrating into your store coloring. Also, you have the option to easily enable/disable this pop-up at any given time from the theme editor.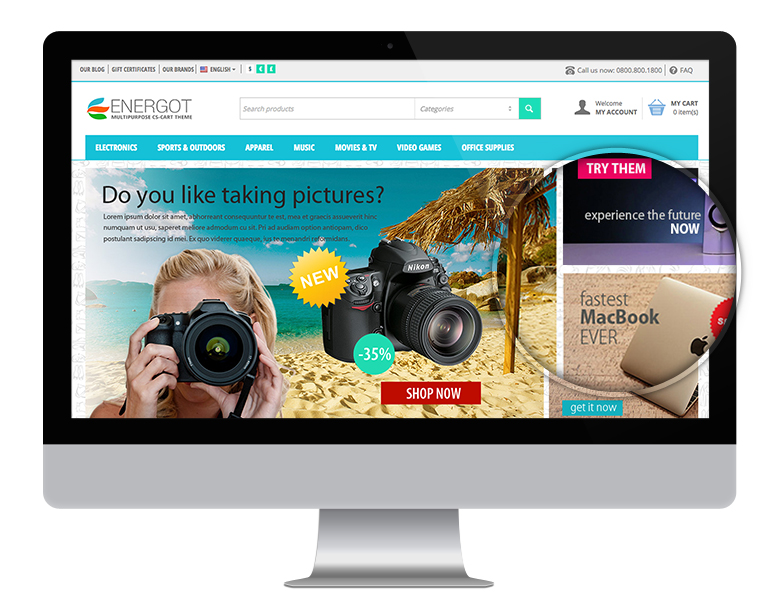 Homepage Slider And Custom Banners
Emphasize or promote important products, categories, special discounts, shipping info, warranty info or just anything else, by using the homepage slider and banner blocks created in ENERGOT theme. In the main slider you may include as many slides as you want.
Please note that our theme comes with sample demo banners. You may start by adding these sample banners, just to get the feeling and change them once you create your own banners. Demo banners included in the package will help you have a quick start.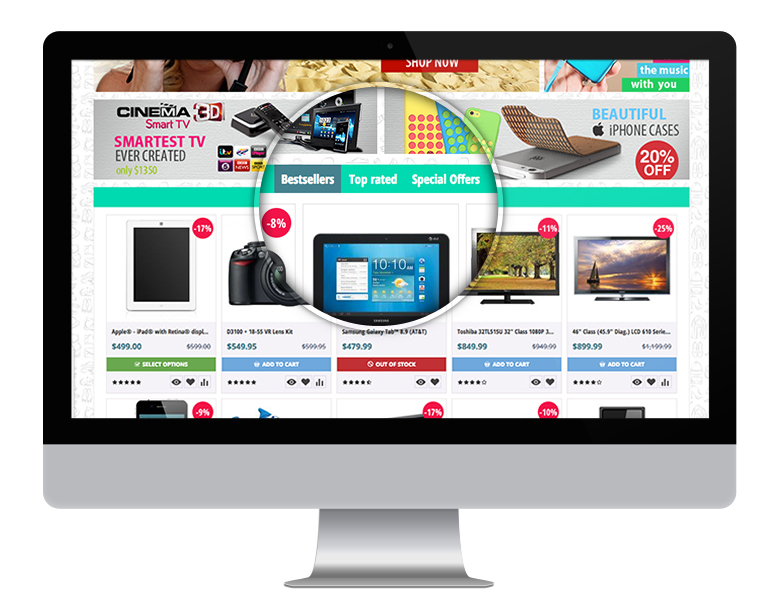 Homepage tabs
On homepage it is recommended to promote some particular products or just simply show your customers the best products you are selling on your shop. You can now easily do this by emphasizing on your home page: special products, best sellers, top rated, or any other products you want with the help of these tabs created for ENERGOT.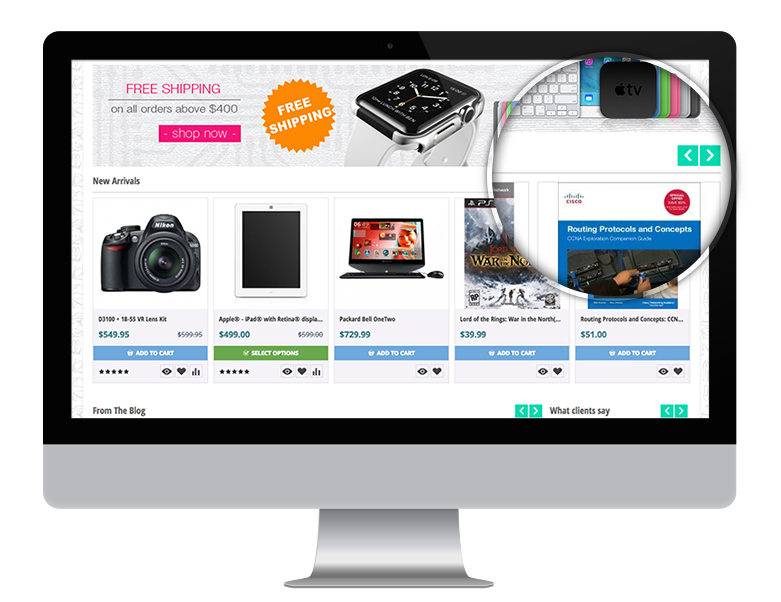 Home page product scroller
Here is another area where you can display any products of your choice. This might be a good side area to display your newest products, your latest arrivals, but you can show any products, like bestsellers, top rated, special products or any products you wish. This carousel is completely redesigned, from the way the product grid is shown to the arrows used to display the rest of the products included in the carousel scroller. You can include here any number of products you want.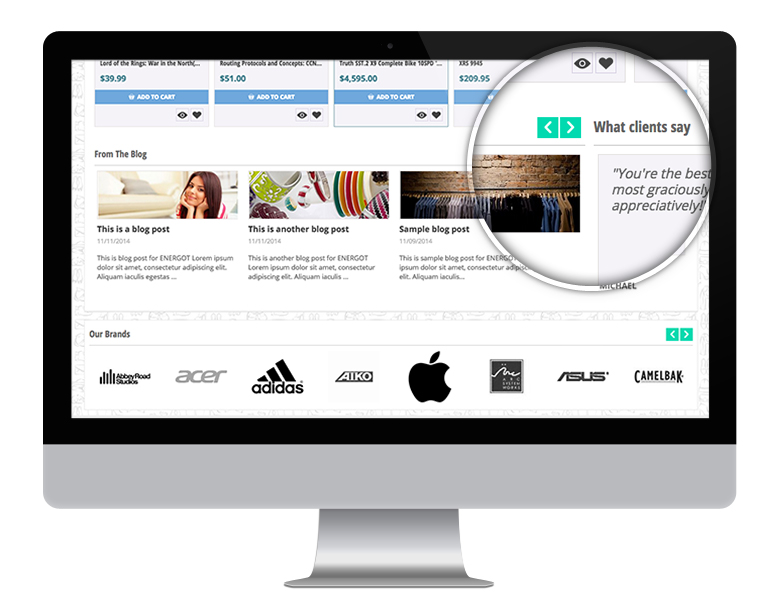 Blog and Testimonials scrollers
We have integrated on the homepage a Blog scroller and a Testimonials scroller. The Blog scroller nicely displays the latest blog articles from your your Blog. You have the options of displaying any number of articles. The integrated testimonial scroller displays testimonials you received from your clients. These scrollers may also be placed in other theme locations.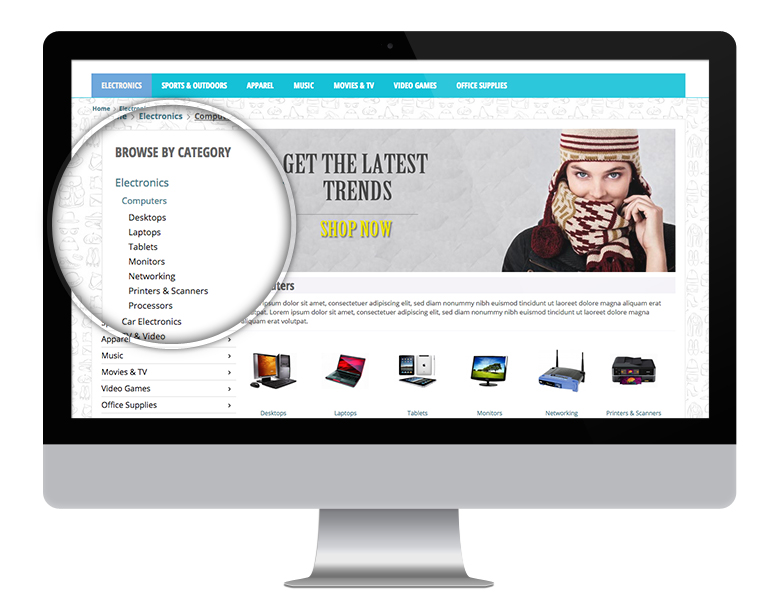 Easy Category Navigation
Easy navigation is an important thing when it comes to user experience on your store. On category pages we have created a navigation block so that your users could always have all store categories handy and easily switch and browse through them.
Also, in case users land on other pages like "About us" page for example, they can still access categories by simply going to the Mega Menu and select the desired category they are interested in.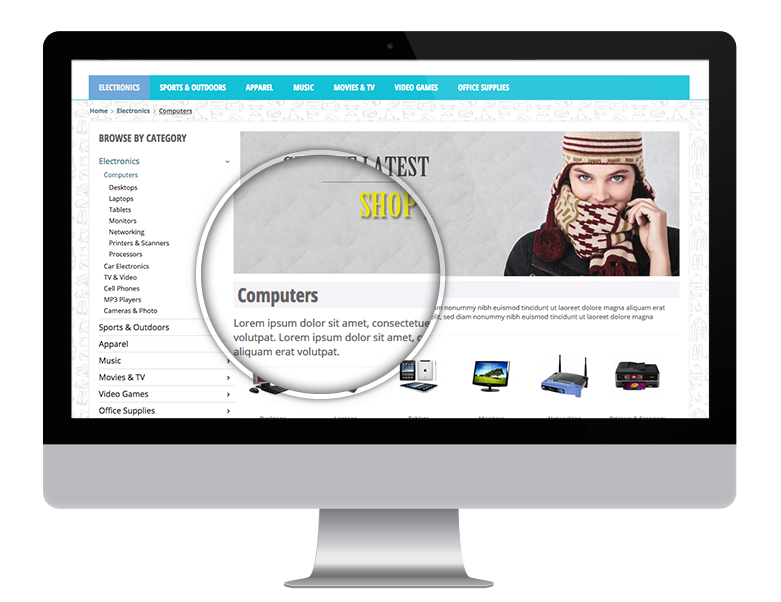 Category image, and Category description
On category pages you can include an horizontal banner as well as detailed category description. You can easily include here any details regarding the products listed on your site in a certain category. You may include any HTML code, text, images, video, links, etc..., or you may choose to not include any description.
Also, you can easily customize your category description text by choosing font colors, text styles, text, video and images alignment.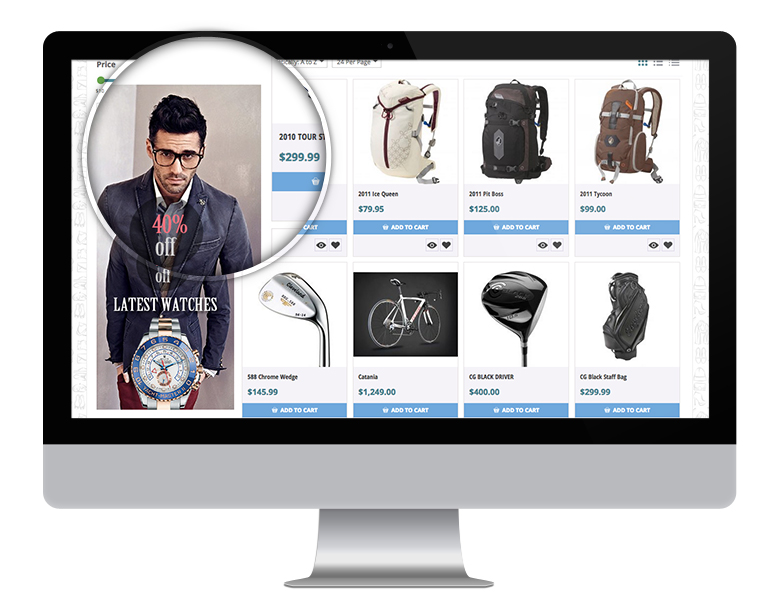 Sidebar banners
On product pages and category page sidebar we have added banner blocks designed for you to promote absolutely anything, as you'll be able to link these banners to any page of, or outside of your store. You may choose to disable these banners for certain categories or pages.
Please note that theme package contains sample sidebar banners, so you may use it at first just to test them out and change them with your own banners latter on.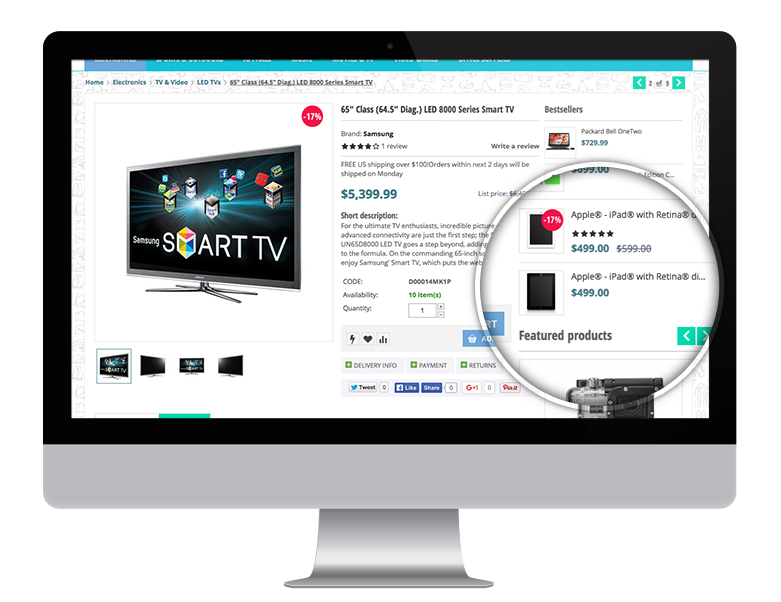 Sidebar Product Listings and Product Scrollers
On the product page you may find sidebar product listings and product scrollers. You can add here any products of your choice like bestsellers, top rated, newest, most popular, recently viewed, or just simply manually add any products of your choice.
You can also set the number of products shown, so you may have more products shown in some categories and less products in others, whatever you wish. Note that in these listings and scrollers we have implemented product ratings, which when clicked, user is forwarded directly to the reviews tab of the respective product page.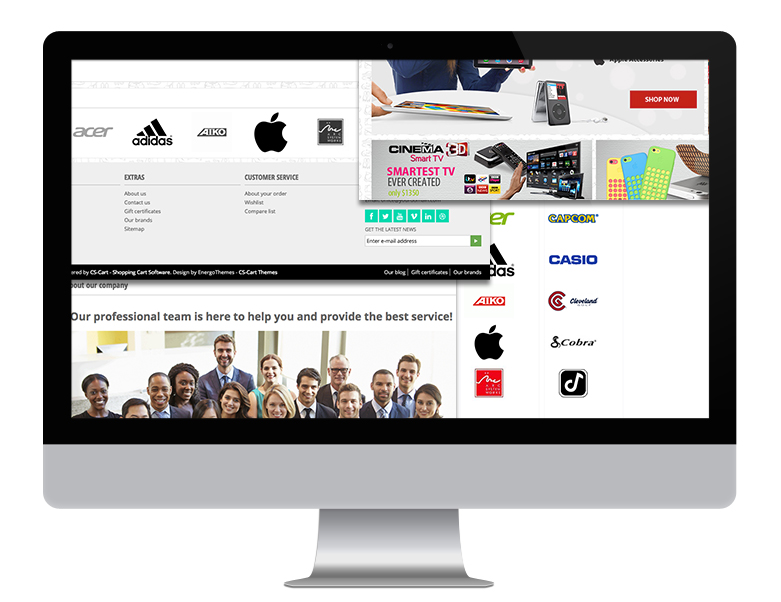 Other theme features
Contact page with google maps to add your store location
Back to Top button for easy scroll back (very useful for longer pages)
Homepage Brands slider showing all brands from your store
Social linkable buttons
Product filters and price filter
NO CS-Cart core files modified
Ajax Add to cart, Add to Compare and Add to Wishlist, ajax pagination
One page checkout
Product social sharing/like
Newsletter subscription
Product
CS-Cart

Multi-Vendor

CS-Cart Ultimate

Multi-Vendor Ultimate
Localisations
English

Български

Dansk

Deutsch

Ελληνικά

Español

Français

Italiano

Nederlands

Norsk

Polska

Română

Русский

Slovenščina

中文
Rating based on user opinions