Remember the days when website images were static and lifeless? Not any more!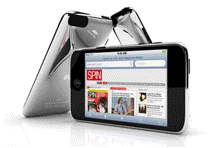 Magic 360™ brings images to life by spinning them round to show them from all angles in 360 degrees. Customers can view every part of your products, almost as if they were in a shop actually holding the product.
Magic 360™ does this by merging lots of images into an interactive one. You can use any number of images - most leading ecommerce sites use either 18, 36 or 72 photos.
Users can even zoom into each image by clicking it, revealing a high resolution close-up. Now with stunning full-screen spins, customers are amazed - talk about seeing every detail!
Unlike other 360 spin scripts, Magic 360™ works everywhere: iPad, iPhone most Android devices and all major browsers. That's because it is a 360 JavaScript spin - it does not use Flash, so all your users can enjoy your 360 degree spins. Whether they are on the move with their mobile phone, tablet or using their computer, JavaScript is supported by all devices.
Users can spin on hover, drag or mousewheel. You can even set images to spin automatically on page load once, twice or infinitely. Other settings can be changed too - the speed, buttons, loading icon, magnifier and more.
Product images
For maximum impact, use clear and crisp images. Upload large versions of your product images (approx 800px), CS-Cart will automatically resize all images throughout your online store.
Either shoot the photos yourself or hire a professional 360 photography studio to do it for you.
It only costs $50-$100 for a full set of 36 photos. No wonder leading retailers named 360 photography as their most important user-experience improvement.
If you want a photography quotation, please email us.
Magic 360™ features include:
Spin & magnify images in full screen.
Supports IE11 pointer events.
Supports IE11 native full-screen.
Autospin backwards and forwards.
Automatically optimize the autospin duration.
Allow vertical drag gestures to scroll the page on touch devices.
Reversed the direction of mousewheel to go clockwise on scroll down.
Magic 360™ scales up and down to fit your responsive themes.
Hide the "Drag" message until autospin has stopped.
Enable or disable right-click menu on a spin.
Ability to reverse rows and columns.
New API method to switch rows.
Upload 3D spins (moves up/down & left/right) or single spins (moves left/right).
Arrows and text indicate that image can be spun.
Entire image magnifier shows more detail.
Alternative of circular / square magnifier.
New cursor shows image can be magnified.
Plus much more...
Magic 360™ is easy to install
Follow instructions for CS-Cart 4, CS-Cart 3 or CS-Cart 2. It takes just a few minutes.
What's next?
Once Magic 360™ is installed setup a 360 spin on your product page. Choose a single spin (moves left/right) or a 3D spin (moves up/down & left/right).
What else can I do with Magic 360™?
Impress customers even more. Combine Magic 360™ + any zoom tool and use both image effects on the same product page. Giving your product images the wow factor, and your customers the ultimate online shopping experience.
.
Other add-ons available from Magic Toolbox:
Magic Zoom Plus™ (zoom & enlarge)
Magic Zoom™ (zoom)
Magic Thumb™ (enlarge)
Magic Slideshow™ (slideshow)
Magic Scroll™ (carousel)
Magic Toolbox
Contact information
Phone
+44 (0) 203-355-2837