Tooltips for filters solve the problem of customers not understanding specific product characteristics and help them make the right choice.
The add-on allows you to display tooltips for filters, with the text taken from the Description field of the corresponding characteristic, and to create a dictionary of terms - a section that contains a list of all filters and their descriptions. This makes the add-on an indispensable assistant for stores with technically complex and specific product catalogs.
The add-on provides a wide range of visual settings for creating informative tooltips, changing the type, color, and theme for displaying the tooltip.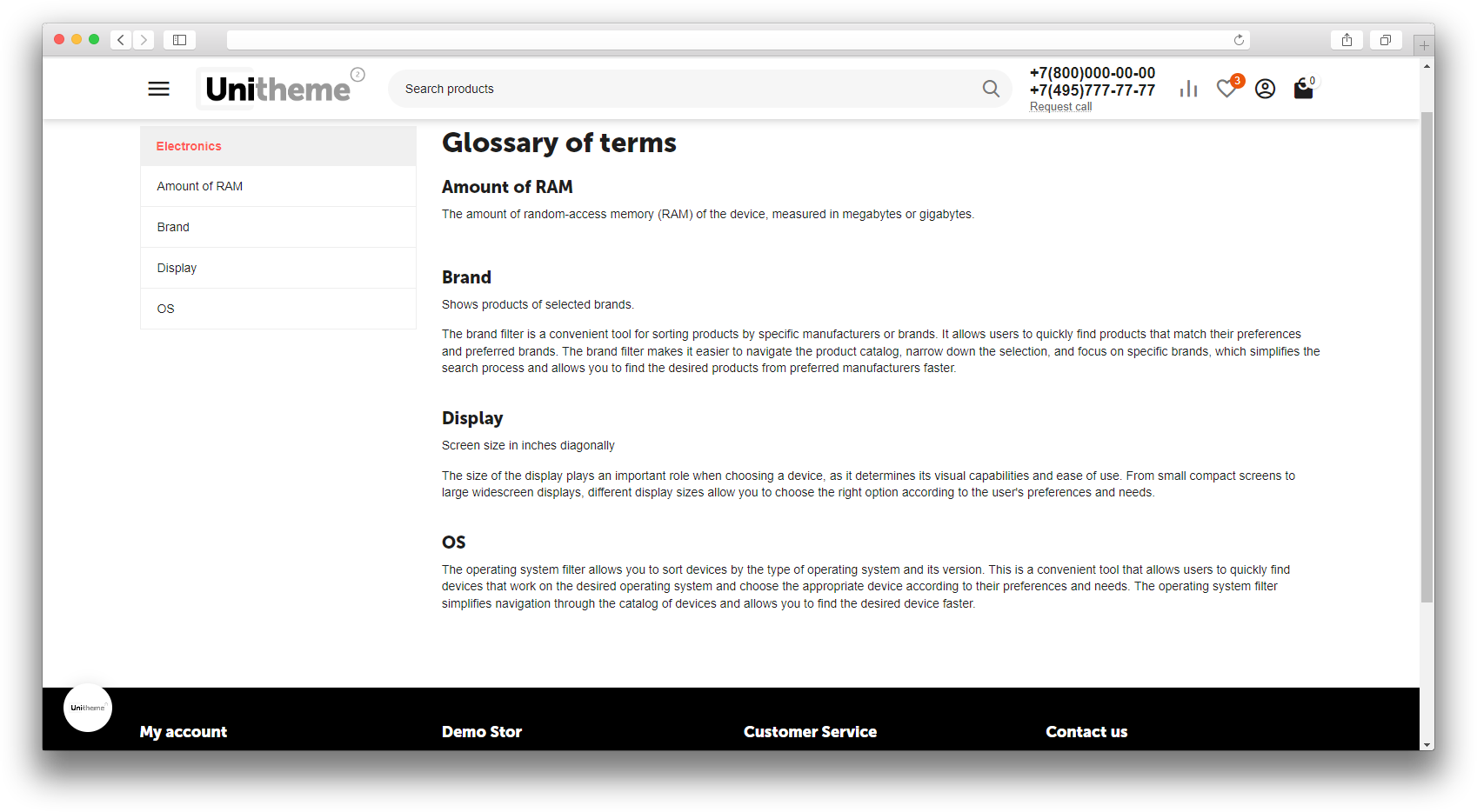 Add-on Features
Shows the filter description
Choice of tooltip display method
Ability to change the appearance of the tooltip window
Ability to change button colors
Automatically creates a dictionary of terms - a list of filters and their descriptions, with the ability to group by categories
Payment type
One-time payment
Product
Store Builder

Multi-Vendor

Store Builder Ultimate

Multi-Vendor Ultimate

Multi-Vendor Plus
Compatible versions
4.16.2

4.16.1

4.15.2

4.15.1.SP4

4.15.1.SP3

4.15.1.SP2

4.15.1.SP1

4.15.1

4.14.3.SP1

4.14.3

4.14.2.SP1

4.14.2

4.14.1.SP1

4.14.1

4.13.3

4.13.2.SP2

4.13.2.SP1

4.13.2

4.13.1

4.12.2

4.12.1
make shop
Internet Shopping is our everything! We do not make and sell sites. We solve your problems! Online Shop starts with storefront and shopping cart. But this is only a small part of the features you need. Adaptive design, calculation of the cost of delivery, online payment, SMS, and email notifications. Integration with 1C and other exotic systems is our concern. We support our clients from the layout to the online store orders. We offer a full range of services relating to online stores.