Войдите в учётную запись, чтобы мы могли сообщить вам об ответе
Addon to CS-Cart and Multi-Vendor allows you to set up order delivery via Paczkomaty and Courier InPost. Customer can choose which paczkomat will contain his package.

We start from installing an extension:

In addon configuration we type amount of points per page, downloaded from ShipX server:


After you install an addon, two new shipping methods will appear - InPost Paczkomaty and InPost Express. Set access keys, then set shipping cost in depend of weight and amount of items.


After shipment configuration, we have to download list of InPost points:
Customer can choose paczkomat from drop-down lost:


If customer will make order via Paczkomaty 24/7, you need to complete two steps in administration panel. First, manually create shipping, then set up shipping method and package size.


Second, print waybills and proofs, that are available after creating shipping.
During order edition, you can also change the paczkomat chosen by customer:
For orders ordered with shipping method InPost Express, you also have to manually create shipping:

Shipx add-on also enables mapping ShipX shipping statuses to order statuses. Option is available in tab Customers -> InPost.
Before mapping, make sure to download statuses using button "Download InPost statuses"
Each mapping contains name, Shipx Status and order status in CS-Cart. New mapping is created by + in upper right corner.
Field "ShipX status" contains statuses downloaded from ShipX. Field "Order status" contains all available order statuses in CS-Cart. Creating a mapping requires picking one of both statuses, and a mapping name (which is only informational).

To make ShipX statuses also change order statuses in CS-Cart, a webhook must be created. Webhook address is available in configuration of ShipX shipping.
To add a webhook, log in through page manager.paczkomaty.pl.  

Then, we enter menu Moje Konto, select tab API and add a link from shipping configuration on the bottom of the page.  

After this operation, changes in shipping statuses will be reflected in order statuses in CS-Cart, according to the created mappings.

We invite you to shopping!
Продукт
CS-Cart

Multi-Vendor

CS-Cart Ultimate

Multi-Vendor Ultimate

Multi-Vendor PLUS
Совместимость с версиями
4.16.1

4.15.2

4.15.1.SP4

4.15.1.SP3

4.15.1.SP2

4.15.1.SP1

4.15.1

4.14.3

4.14.2.SP1

4.14.2

4.14.1.SP1

4.14.1

4.13.3

4.13.2.SP2

4.13.2.SP1

4.13.2

4.13.1

4.12.2

4.12.1

4.11.5

4.11.4

4.11.3

4.11.2

4.11

4.10.4.SP1

4.10.4

4.10.3

4.10.2

4.10.1

4.9.3

4.9.2

4.9.1

4.8.x

4.7.x

4.6.x

4.5.x

4.4.x

4.3.x

4.2.x

4.1.x

4.0.x
SoftSolid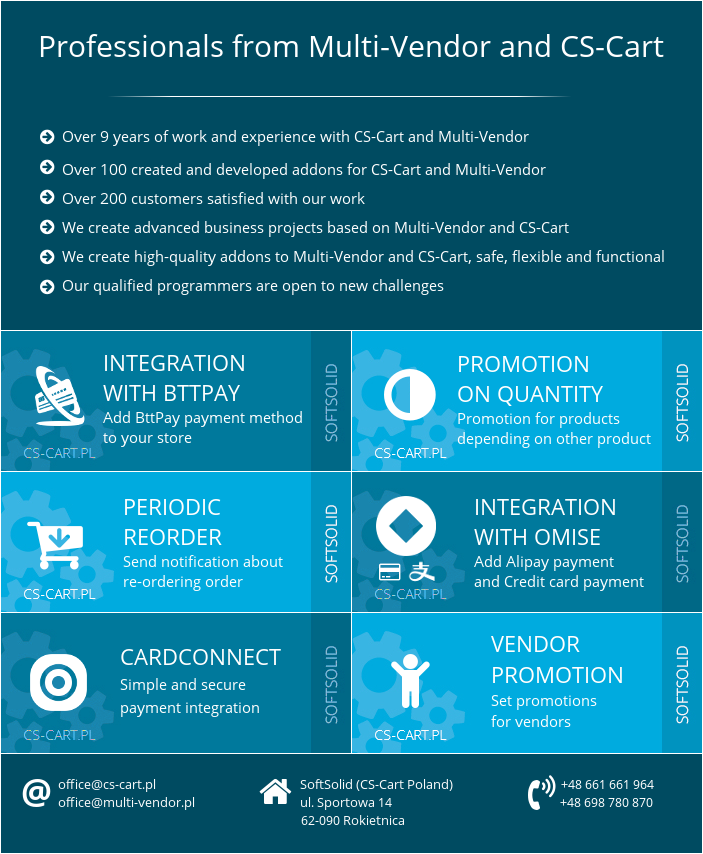 Our team created 100+ functional, original and useful Multi-Vendor and CS-Cart addons. Since 2010, when SoftSolid became CS-Cart and Multi-Vendor official developer, we deliver you professional solutions for e-commerce projects. The highest quality of our projects is confirmed by dozens of satisfied customers. We always try to make our addons intuitive and user-friendly and skilled programmers in our team can create almost every addon that you may need. Contact us