SENDSAY SERVICE INTEGRATION AND USER REGISTRATION AND AUTHORIZATION FOR CMS CS-CART
Maurisweb Web Studio together with the Sendsay service, we offer you a comprehensive application for integration into your Online Store or Marketplace.
ONLINE STORES AND MARKETPLACES ON THE CS-CART PLATFORM
The complex is designed for any version of the CS-Cart platform. With its help, the Free version of CS-Cart you can create your own online store or marketplace easily, quickly, and with the Free version it is completely free.The module is also compatible with any versions of the CS-Cart and CS-Cart Multi-Vendor platforms.
SALES AUTOMATION AND CUSTOMER LOYALTY ENHANCEMENT
Managing a large trading platform requires regular interaction with tens of thousands of people: suppliers, sellers, buyers.It is necessary to remind suppliers and sellers of the need to prepare orders for shipment, tell customers about the movement of their order, promotions, new products, discounts, and so on. 
The complex automates this process as much as possible, makes it simpler and more efficient. 
Well-structured interaction with the buyer increases the conversion rate, the average check, motivates buyers to return to your site again and again. And therefore, it increases your profit. 
PORTRAIT OF THE BUYER
Create a portrait of the buyer, collect his E-mail, contacts in messengers and social networks: Telegram, VKontakte, send push notifications. Choose the most convenient way of interaction for communicating with the buyer. 
Read more about the capabilities of the modules on our website. 
SENDSAY IS A RUSSIAN INTEGRATED MARKETING AUTOMATION SOLUTION FOR WORKING WITH BUYERS AND SELLERS ON THE WEBSITE BY E-MAIL, TELEGRAM, SMS, VK, VIBER, MOBILE PUSH FOR CMS CS-CART MARKETPLACES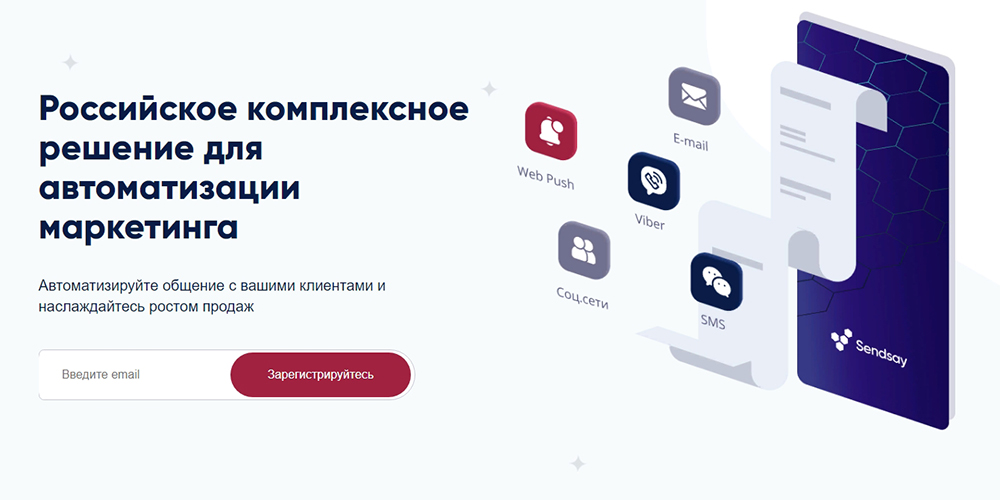 INTEGRATION BONUSES WITH THE SENDSAY SERVICE
Mass mailing of emails, mass mailing to subscribers of communities in VKontakte, Telegram, mailing of transactional letters.
Automate sales,
Increase customer loyalty,
Clean up the data,
Protect your communications,
Automate mailing lists,
Use the most advantageous channel combinations,
Get powerful analytics and reports. 
Sendsay service is used by many large companies, including the most popular marketplaces, such as Ozon, X5 Retail Group, Detsky Mir, Kangaroo, ECCO, OK, Crossroads, La Redoute, VTB Insurance, Alfa-Bank, MTS-Bank, UniCredit Bank and many others. Work with the best to become better yourself.

WHY DO I NEED MASS MAILING?
It is important for the Marketplace to conduct a dialogue with sellers and buyers: to notify about an order or a change in its status, to remind about the need to collect an order, to tell about promotions, and so on.
Mail services try to protect their users from spam, and therefore have limitations: when sending more than 1,000 emails a day, emails are blocked or sent to spam. That is, the addressee simply will not receive them.
And it seems like 1000 emails is quite a lot. But this is for an ordinary person, but for the marketplace? How many emails does even a small marketplace send out per day? Let's try to calculate.
The buyer has registered – a confirmation letter is sent to him. Then he made an order, a notification also comes about this. Then there are notifications about the change of order statuses: the order is confirmed, transferred to the transport company, delivered to the delivery city, transferred to the PVZ, handed over to the buyer. This is already 7 letters. So far, it seems, not much.
Order notifications should be sent not only to the buyer, but also to the seller. Already about twice as many messages.
But the marketplace does not have one order per day, but hundreds and sometimes thousands. And there are 10-15 messages for each order. We have already gone far beyond the limits. And we still need to tell people about promotions, receipt of goods, request feedback: is delivery convenient for you? Are you satisfied with the quality of the product?
The Sendsay service integration module is a solution that allows mass distribution of emails, bypassing the limitations of mail services. You no longer need to think about how many emails you have already sent today. 
Sendsay service integration module
We have developed a module that integrates the Sendsay service into the administrative panel of your marketplace. Manage your newsletters without going to third-party sites. Save time, manage the marketplace more efficiently.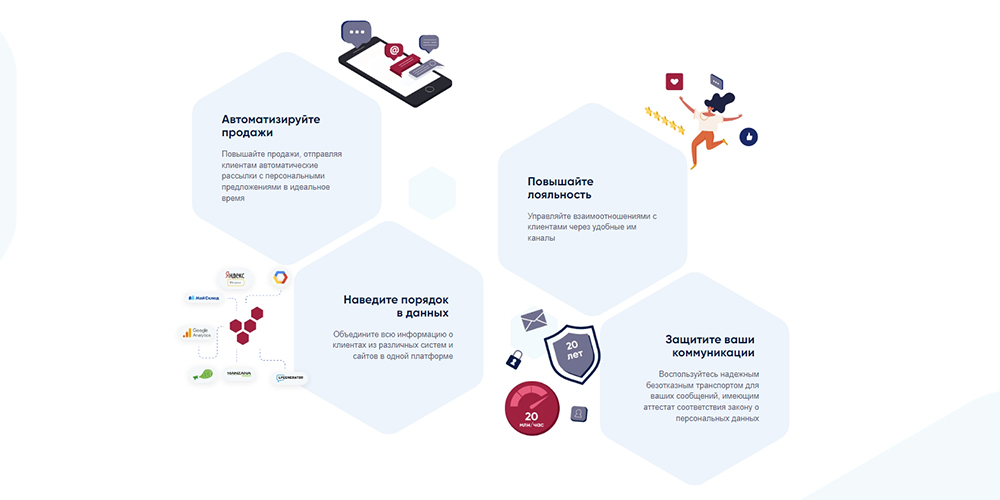 WHY EMAIL
Today, there are many more operational ways to communicate with partners: telephone, social networks, messengers. Why is the email newsletter still relevant?
First of all, a person can change the number at any time or simply lose the phone, and the connection with him will be lost. He will not be able to view information that his order has already been delivered to the pick-up point, clarify the order number or receive a verification code.
Secondly, you will not be able to send a large amount of information via SMS or messenger: a list of products in the order, or a selection of products on the subject of interest to the buyer, a report to the seller on sales for the month. All this is much more convenient to send by e-mail.
Third, unlike SMS, social networks or messengers, e-mail allows you to sort emails by importance and quickly find what you need if necessary. E-mail is much more convenient for storing and structuring information.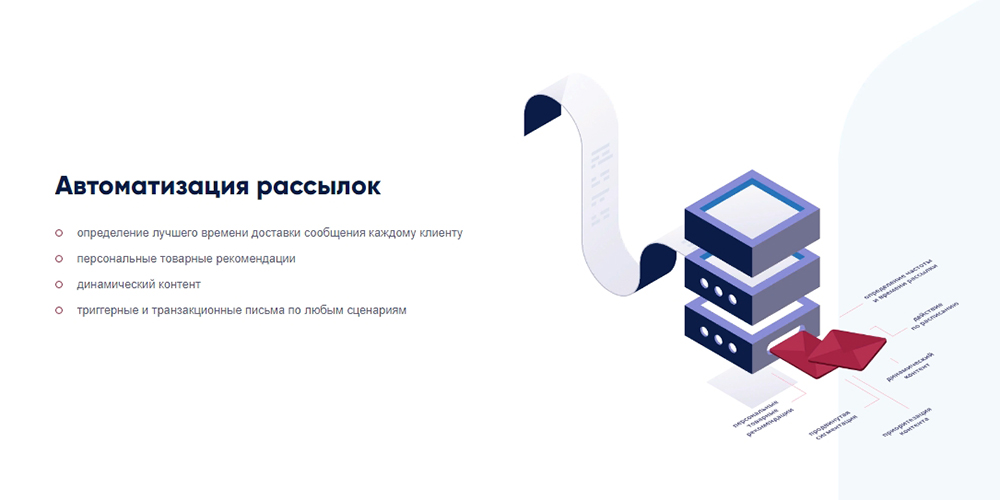 EMAIL TEMPLATES
The letter that came to the email must be recognizable so that the addressee can understand by the first sight who he is dealing with and what the letter may be about. For the marketplace, it is equally important to make different letter designs for different categories of recipients: for administrators, sellers and buyers.
The seller can also be registered on your marketplace as a buyer. In this case, it is very important that he responds in a timely manner to letters sent to him as a seller. After all, among them there may be information about orders that require urgent attention.
Choose one of several options for creating emails:
Independently create a template in the Sendsay service using block Drag&Drop the editor,
Upload the finished letter via HTML code,
Order template development from Sendsay service specialists,
Order template development from the specialists of the Maurisweb web studio.
As a result, all your emails will be personalized for different categories of recipients: buyers, sellers, administrators. 
Segmentation of the Sendsay mailing list
Create email chains for different occasions and fine-tune the mailing list so that the buyer, once in the planned situation, automatically receives a letter returning it to your marketplace.
For example, if the buyer has registered, confirmed his email, but has not yet filled in the delivery address and phone number, it means that he has not placed a single order. This is a good reason to send him an email with a selection of popular products to motivate him to make his first purchase.
Create email chains based on the age, gender and date of birth of the buyer. Based on this data, you can make selections with suitable products. For example, cosmetics for women, tailored to her age.
Based on the information about the selected delivery methods, compose a newsletter with a survey on the quality of delivery, and after passing the survey, send the buyer a letter of thanks and a nice gift for helping to improve the service.
And if the buyer is dissatisfied with the delivery, automatically send a letter to the quality control department of the work. This will improve the quality of work.
Make a selection of interesting products for the buyer, based on the information about the categories and products viewed. Or, to make the newsletter more individual, you can, after registration, invite the buyer to take a survey about which categories and products are most interesting to him, and make selections based on his own answers.
If a customer purchased products from you some time ago, but no longer visits your site, send him an email with a reminder about your marketplace with a selection of products from the same categories.
The same letter chains can be compiled for sellers at different stages of preparing their store for sales on your marketplace.
For example, if a seller has registered and brought goods to the showcase, but he still has no sales, send him a series of training letters that will help him change the presentation and presentation of his goods, which should, in turn, lead to the first sale.
After that, it is important to send a letter of congratulations to the seller, and then motivate him with congratulations on 100, 500 and 1000 sales.
Creating an automatic mailing list with Sendsay
РАССЫЛКА В МЕССЕНДЖЕРАХ И СОЦИАЛЬНЫХ СЕТЯХ
Многие люди сегодня практически не пользуются электронной почтой, предпочитая более быстрые варианты связи: мессенджеры и социальные сети. Sendsay поддерживает работу с популярными мессенджерам: Телеграм, Viber, а также рассылки в социальной сети ВКонтакте.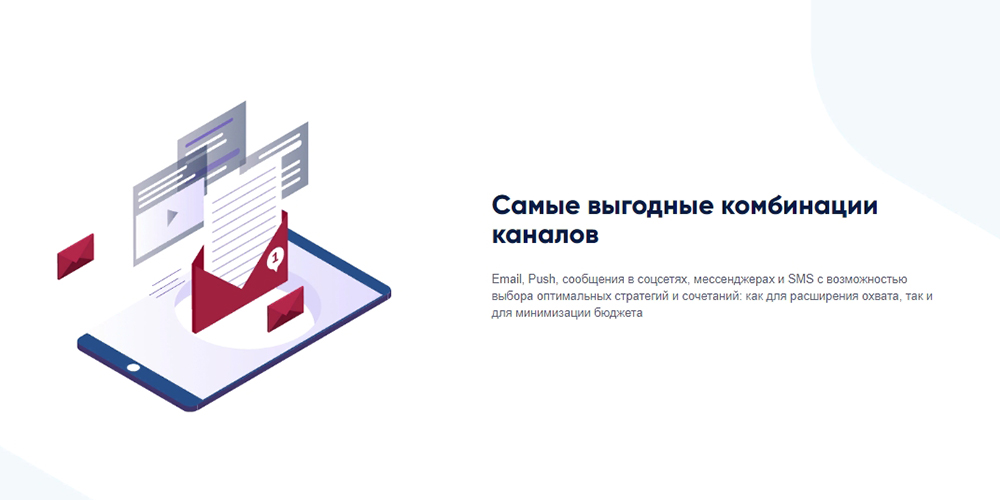 MODULE UPDATE AND DEVELOPMENT
The module is constantly evolving, new segmentation methods and more point-by-point distribution settings are emerging. You can find out what new features have appeared from the description of the module update. You can also request a revision of the module, add new mailing segmentation capabilities that you need. To do this, you need to write a request in the feedback form on the website Maurisweb.com .
Compatibility with other modules
As part of Enterprise solutions, the Sendsay integration module is used for notification in the business process chain.
For example, after the buyer has placed an order, you need to get information from the seller about the availability of goods for the order so that you can confirm the order to the buyer. The module sends a message to the seller's warehouse with information about the order, so that it gets not only to the seller's manager, but to the employee who directly works with the goods. This speeds up the assembly and reduces the time to process the order.
After the storekeeper's response, you receive money from the buyer only for those goods that are in stock. The next step is to confirm the order assembly and send a link to download the address labels.
SENDSAY PLATFORM FEATURES
More than 100 functional solutions for automation of multi-channel communication with your customers
PERSONALIZATION AND SEGMENTATION
Personalization: name, date of last purchase, accumulated points, amount of purchases
Segmentation by activity in newsletters, on the website, subscriber data
Segmentation of the database by geography, social status, gender, age, type of recreation and any other characteristics
Custom fields
Multilevel combinations of conditions: geographical, social, behavioral, system data
Mass editing of subscriber data
Viewing subscribers who have added themselves to the stop list
Various formats for storing subscriber data: date, lists, text
Informing about subscribers' actions by email or http
CONTENT AND LAYOUT
Block Drag'n'drop Editor
Adaptive email design
Ready-made email templates
HTML editor and custom templates
Drafts
Loading html layout from ZIP archive
Unlimited file storage
Mailing list archive
Unique attachments: receipts, postcards, bank statements, loyalty program reports
Dynamic content for different categories of buyers
Displaying letter blocks for individual segments
Ready-made and editable subscription forms for the site and surveys
Redirecting from the subscription form to the required web page
MAILING LISTS
The speed is 20 million . emails per hour
Delivery 99.9>#/li###
Planned release of mailings
Web Push Notifications
Exclusion of non-existent and abandoned addresses
Analysis and validation of the contact database before mailing
Behavioral targeting
A/B testing: headers, content, sending time
Test message sending
Optimization of the sending time depending on the activity of subscribers
Time zone-based release
Launch for those who have not opened the letter in 1 click
Express release without loading the address database into the account
AUTOMATION
Automatic channel selection: email, sms, social networks, messengers
Trigger chains: welcome, abandoned browsing, forgotten trash, reactivation, resuscitation
Ready-made possible events and actions: data change, N time has passed, add to group, change data
Transaction chains: purchase confirmation, delivery information, product appearance
Generating content for mailing from the pages of a website, blog, online store or RSS feeds
A selection of online store products: popular products, novelties, sale
Generation of individual promo codes and barcodes
Importing scheduled data
Sending mailings according to a schedule
STATISTICS AND ANALYTICS
Mailing statistics: delivery, openings, unsubscriptions, spam complaints
Subscriber statistics: audience portrait, actions, activity
Statistics for the time interval
Tracking site landing page visits and goal achievements
Segment analysis
Conversion analysis: orders, calls, purchases, transactions, profit for the period
Analysis of indicators: devices, operating systems
Dynamics and influence of mailings on sales
Number of delivery errors and description of each error
Click map
Visual graphs and interactive diagrams
Saving report results and sending them to the mail
SECURITY
Compliance with Federal Law 152 "On Personal Data"
Differentiation of access rights to employees: to addresses, mailings, statistics
Tracking account changes: actions, time, user IP address
Database encryption
Biometric authentication: AGSES card
Analysis of the probability of a particular mailing list falling under the spam filters of popular mail services
Configuring sender Domain authentication: DKIM, SPF, MAILFROM, FBL
Dedicated IP addresses
INTEGRATION
Full-featured API
Vkontakte, Facebook, Twitter: "share" and "like" buttons
Web Analytics: Google Analytics, Ya.Metrica
CRM: amoCRM, Bitrix24, Microsoft Dynamic CRM
CMS: LPgenerator, CS-Cart of Online Stores, CS-Cart of Marketplaces
SaaS: MySklad, Flocktory, Manzana, LeadHit, SAP, Siebel
Google Big Data, Google Big Query, Power BI
Transmitting events from the system to the client: Callback, WebHook
The Sendsay integration module is provided free of charge, subject to a new connection to the service and payment of any tariff within a month from the date of purchase of the module. You can use the module for free for 24 months after purchase.
Registration and authorization of the buyer and seller on the website by E-mail, Telegram, SMS, VK, Mobile push for CMS CS-Cart Marketplaces
Email Confirmation
When registering, the buyer specifies the email address. At the same time, he can specify someone else's mail, or a non-existent address. However, it is important for you to know his real address. Firstly, to be able to get feedback. Secondly, sending emails to non-existent addresses also leads to blocking in spam.
The module is compatible with the Russian integrated marketing automation solution Sendsay. The service necessarily requests confirmation by E-mail before the first purchase. The buyer can confirm the email address immediately upon registration or later, depending on the settings.
To make a purchase, it is necessary that the buyer's E-mail must be confirmed. If the buyer starts to make a purchase before the confirmation of the mail, the module will send a code to confirm the address specified during registration, and request this code from the buyer. Only after entering this code, the buyer will be able to make a purchase. 
Replacement of the confirmed email address
After the buyer confirms his email, this field will be blocked for making changes. This is necessary so that the buyer cannot replace the confirmed mail with an unconfirmed one. 
If the buyer wants to replace his E-mail, he can enter a new address in the "Additional e-mail" field, confirm it, and then swap the addresses. This guarantees you that the user has replaced the address deliberately and the new address will also be confirmed. 
Registration by SMS or email
Today, customers are already used to such a service when communicating with major players in the eCommerce market, such as Ozon, Wildeberries or Aliexpress. The Sendsay service will allow you to work on an equal footing even with serious competitors.  
In the module settings, you can choose which information to request from the buyer during registration: E-mail or phone number. The third option is automatic detection of the entered information. Your buyer will be able to choose how to log in to your site, while you do not have to add new fields to the registration page. 
Buyer's portrait
The Sendsay service allows you to link all your contact information to the buyer: email, phone, Telegram, personal VKontakte page. Subsequently, the buyer can log in to your site using any of these sources, and you get the opportunity to communicate more effectively with the buyer, contact him in the most convenient way for you and for him. 
Payment type
One-time payment
Product
Store Builder

Multi-Vendor

Store Builder Ultimate

Multi-Vendor Ultimate

Multi-Vendor Plus
Compatible versions
4.17.1

4.16.2

4.16.1

4.15.2

4.15.1.SP4

4.15.1.SP3

4.15.1.SP2

4.15.1.SP1

4.15.1

4.14.3.SP1

4.14.3

4.14.2.SP1

4.14.2

4.14.1.SP1

4.14.1
MAURISWEB
Our Maurisweb web studio is engaged in the development of automated online stores and marketplaces, as well as individual modules. We have been working since 2014, and during this time we have created more than 300 modules for the CS-Cart and CS-Cart Multi-Vendor platform. 
For you, we have developed packages of modules and services for the development of online stores and marketplaces in the all-inclusive format: MWP - DBS in 15 days, eCommerce DBS in 30 days and FBO, FBO+, DBS, FBS in 90 days.