Please sign in so that we can notify you about a reply
Addon to Multi-Vendor, Multi-Vendor PLUS, Multi-Vendor Ultimate allows configuring vendors access to administration panel. This way, you can limit vendors possiblities, ex. adding new products options or modifing customers data.

We start from installing an extension:
Next we configure permissions:
In extension configuration we can define vendors permissions. Here we limit their access only to products and categories:
After saving settings, customer has no access to filters, features and options.
In another example we limit vendors access to tab "Administration", leaving only shippings, payments, taxes and logs:
We can also let vendors set their own rights, by marking special option in add-on configuration. Main administrator can also completely turn off individual vendor rights settings, and use only those from addon configuration:
Vendor panel contains the same options as add-on configuration.
Vendor rights can be also set individually for each vendor administrator. Administators' settings have priority over vendor settings.
With this extension, we can easily limit vendors access to some parts of administration panel. Sometimes it's useful, especially if vendor has no experience in administration panel managing, or if you want to dodge vendors missclicks.
We invite you to shopping!
Product
Multi-Vendor

Multi-Vendor Ultimate

Multi-Vendor PLUS
Compatible versions
4.14.1.SP1

4.14.1

4.13.3

4.13.2.SP2

4.13.2.SP1

4.13.2

4.13.1

4.12.2

4.12.1

4.11.5

4.11.4

4.11.3

4.11.2

4.11.1

4.10.4.SP1

4.10.4

4.10.3

4.10.2

4.10.1

4.9.3

4.9.2

4.9.1

4.8.2

4.7.4

4.6.3

4.5.2

4.4.3

4.3.10

4.2.4

4.1.5

4.0.3
SoftSolid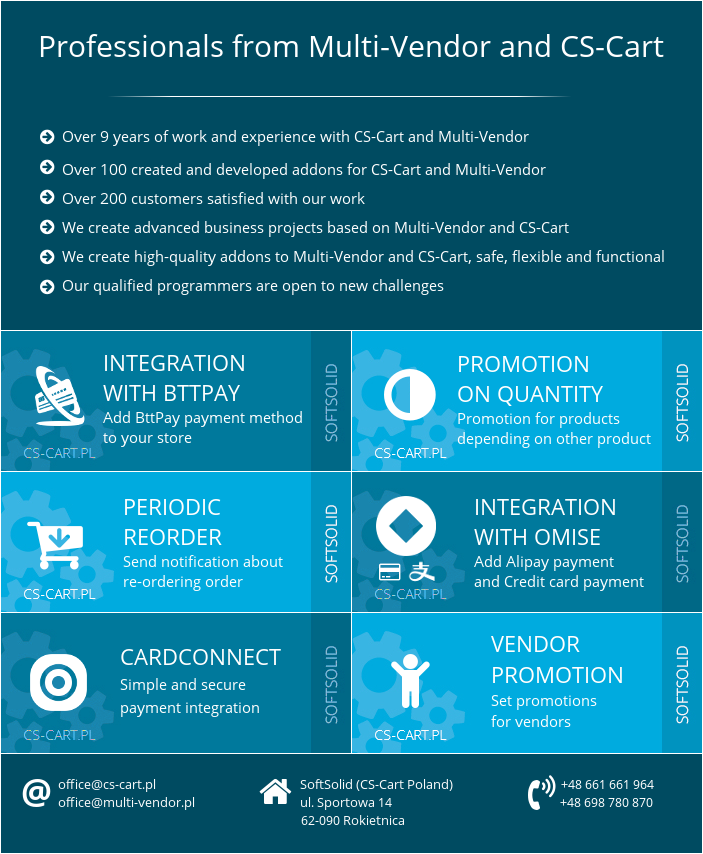 Our team created 100+ functional, original and useful Multi-Vendor and CS-Cart addons. Since 2010, when SoftSolid became CS-Cart and Multi-Vendor official developer, we deliver you professional solutions for e-commerce projects. The highest quality of our projects is confirmed by dozens of satisfied customers. We always try to make our addons intuitive and user-friendly and skilled programmers in our team can create almost every addon that you may need. Contact us