Please sign in so that we can notify you about a reply
Addon to CS-Cart and Multi-Vendor allows integration with Baselinker system. Add-on fully integrates CS-Cart/Multi-Vendor ensuring data exchange about orders and products. Add-on is also compatible with InPost / ShipX integration and Elektroniczny Nadawca Poczta Polska.

We start from installing an extension:

Next step is to create a connection between CS-Cart and Baselinker. We log into Baselinker system and add a new integration:
In the first window, we selected the last icon from "Shops" section:
Next, we set access data in Baselinker system. Key has to be obtained from field "Communication password" in Baselinker configuration and typed in the same field in add-on configuration. After saving, we have to copy connection link (red) and paste it into field "Data exchange file" field:
Next we go to add-on configuration. In tab "General" we type basic data to connect store with Baselinker:

Next tab defines information about products:
Here we define parameters of orders exchange from CS-Cart to Baselinker:
Order synchronization between Baselinker and CS-Cart/Multi-Vendor is configured here:

Add-on is compatible with multiple storefronts (CS-Cart Ultimate) and multiple vendors (Multi-Vendor). Each vendor/storefront can communicate with different assigned Baselinker account.
Each of our add-ons has full technical support and access to updates (the latest versions of the add-on). We want to ensure the highest quality of our work and full satisfaction of our clients. If you need help, please contact us through our help desk system.

We invite you to shopping!
Product
CS-Cart

Multi-Vendor

CS-Cart Ultimate

Multi-Vendor Ultimate

Multi-Vendor PLUS
Compatible versions
4.14.1.SP1

4.14.1

4.13.3

4.13.2.SP2

4.13.2.SP1

4.13.2

4.13.1

4.12.2

4.12.1

4.11.5

4.11.4

4.11.3

4.11.2

4.11.1

4.10.4.SP1

4.10.4

4.10.3

4.10.2

4.10.1

4.9.3

4.9.2

4.9.1

4.8.2

4.7.4

4.6.3

4.5.2

4.4.3

4.3.10

4.2.4

4.1.5

4.0.3
SoftSolid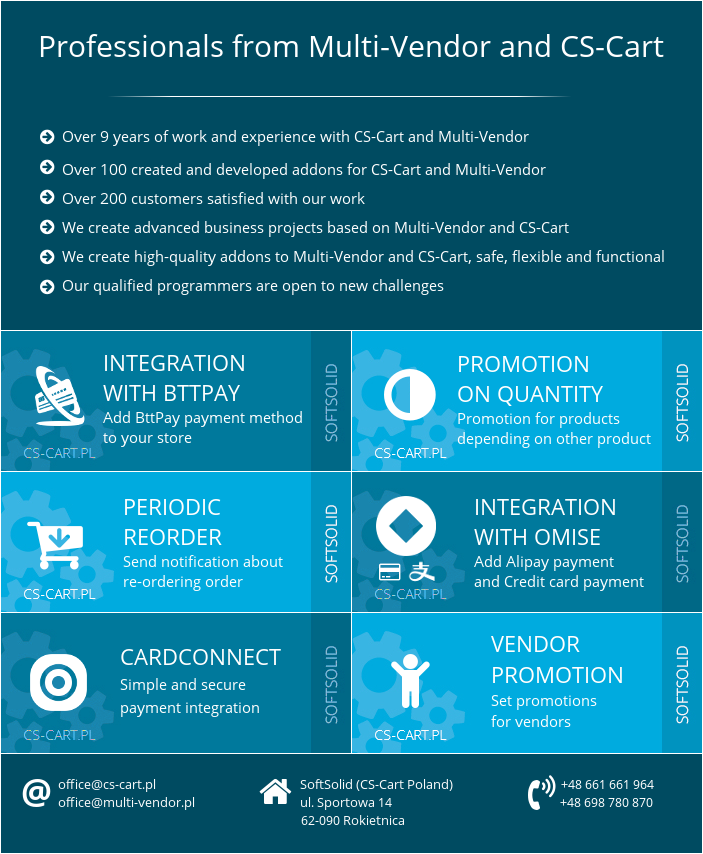 Our team created 100+ functional, original and useful Multi-Vendor and CS-Cart addons. Since 2010, when SoftSolid became CS-Cart and Multi-Vendor official developer, we deliver you professional solutions for e-commerce projects. The highest quality of our projects is confirmed by dozens of satisfied customers. We always try to make our addons intuitive and user-friendly and skilled programmers in our team can create almost every addon that you may need. Contact us