"SELLER RESTRICTION IN THE "PRODUCTS" MENU ADD-ON FOR MULTI-VENDOR
The add-on allows sellers to configure access by privileges to filters, options, lists of characteristics and categories. This increases the security of the marketplace.
Why restrict the seller
Of course, you can give the seller access to all pages, including a list of characteristics, categories, and so on, if your business processes require it. However, most often this is not necessary, and the extra pages confuse the seller, create an extra mess in his head. Besides, if he can break something somewhere, you can be sure he will. Not out of malice, absolutely by accident, without thinking. If not this one, then another one.
Regular ways to restrict the seller
Yes, CS-Cart made a new menu for sellers, where it hid all the extra pages from the seller. They can be manually connected if necessary, but by default they are not. For many marketplaces, this is quite enough, especially since this solution is free, does not require additional investments.
However, hiding is not the same as closing access. There are various ways to get around this limitation. Therefore, this solution cannot be called absolutely safe for the marketplace.
Convenience and safety first of all
We offer a safer and more convenient solution. A add-on that restricts sellers' access to various functionality at the privilege level:
List of characteristics,
Filter list,
List of categories,
Options.
You decide for yourself which of the sellers to give access to this functionality, who does not.
Access to the category tree
It is necessary to show the category tree to the seller, because he must have a substantive idea of how to distribute goods into your categories. And it's not in the window for him to look at how your category tree is arranged.
However, if you give him access to categories, as it is implemented in the basic version, the seller will be able not only to view the list of categories, but also to fall into any of them, read all the information in it, including SEO and so on, which he absolutely does not need to know.
Therefore, in this add-on we have redesigned the display of the category tree for sellers.
The category tree immediately displays exactly how many products the seller has in the category. When choosing a category, the seller falls through to the page with the goods on the showcase, and not to the admin panel.
Our add-on is a safe and convenient way to restrict sellers. You can flexibly set up conditions for different sellers depending on their tariff, type of goods and many other conditions. We have blocked up to 90% of vulnerabilities that allow sellers to bypass the restrictions of the marketplace.
---
---
add-on operation in examples
Setting up Seller Privileges
Category tree in admin.seller's panels without this add-on.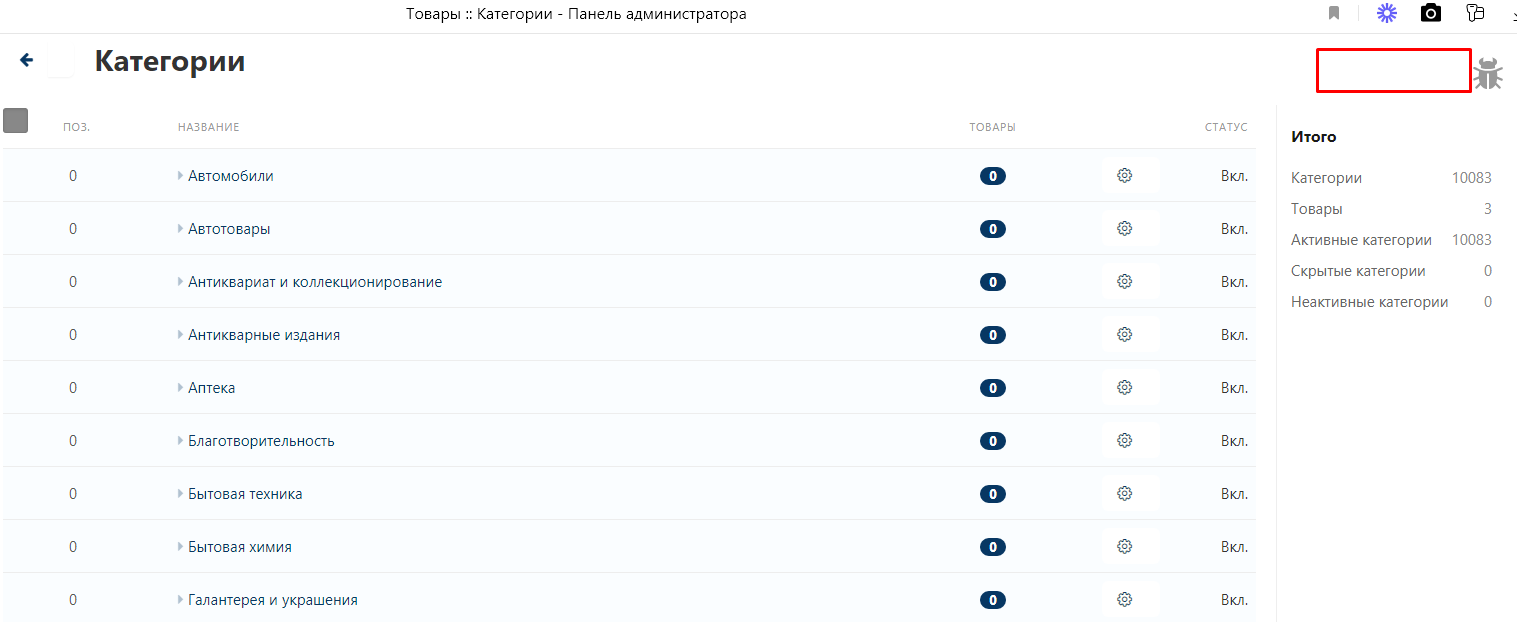 Without our add-on, the seller can go to the category description.

The seller has a category tree with our add-on: depending on the privilege settings, it is possible to add a category. 

If the seller clicks on the category name, it will be transferred to the showcase. 

Category settings are being expanded. 

Without our add-on, you can also restrict access to certain pages. for example, here we have removed the "Options" tab from the searchlight menu.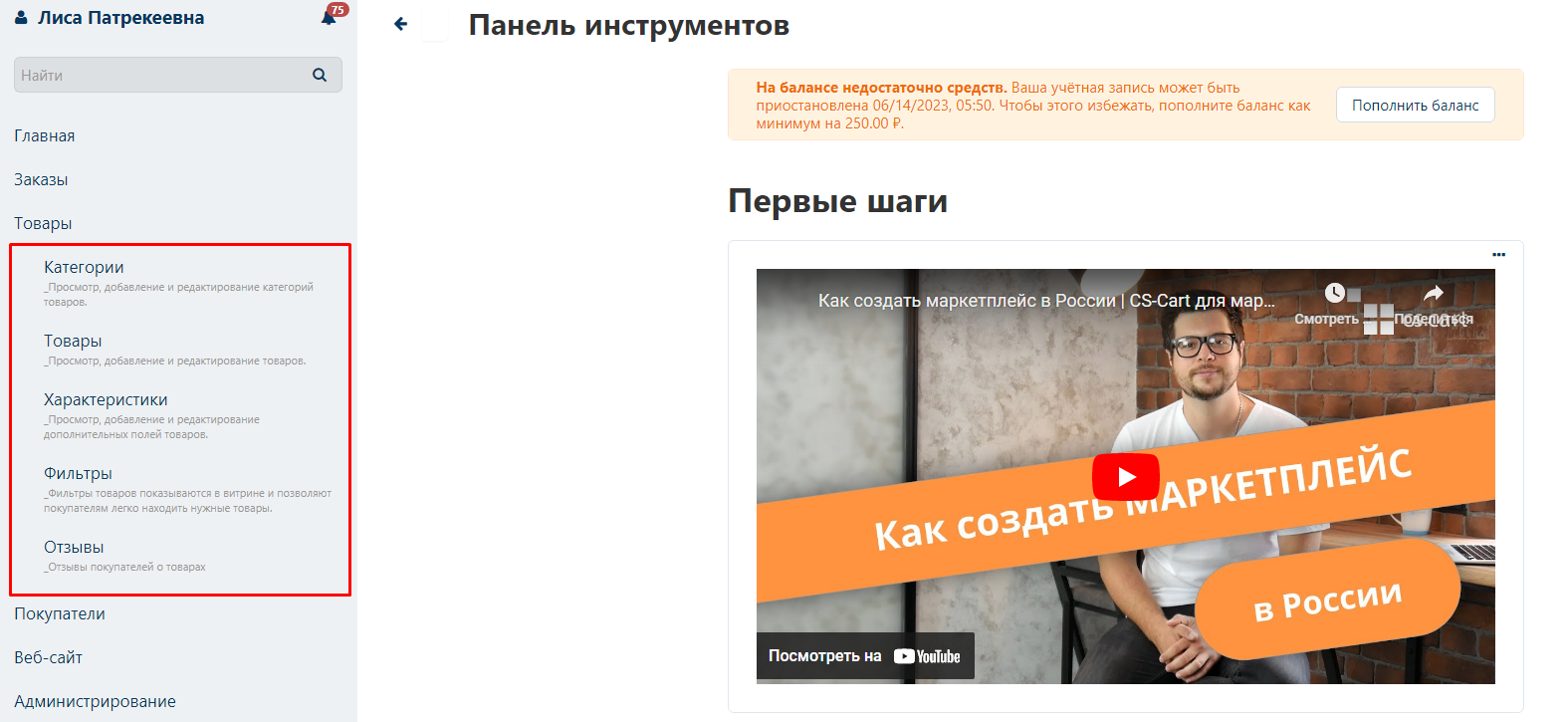 However, in this case, you can enter the address of the options page in the address bar. 

And the seller will open a page with options, despite the fact that it is not and cannot be in the menu. 

Our add-on will not only remove the tab from the menu, but also prohibit access to it by privileges. 

CONTACTS

Up-to-date information about changes in the functionality of the add-on, as well as compatibility with other add-ons, is published in our Telegram channel and in the VKONTAKTE
Telegram t.me/maurisweb 
VKONTAKTEvk.com/maurisweb

---
You can submit a request to the support service, ask questions to the managers about the work or completion of the add-on via messengers, the groupVKONTAKTE and mail.

- WhatsApp +7-923-364-90-07
- Telegram  t.me/mauriswebru
- Telegram  +7-923-364-90-07

- VKONTAKTEvk.com/maurisweb

- E-mail: [email protected]
Compatible versions
4.17.1

4.16.2

4.16.1

4.15.2

4.15.1.SP4

4.15.1.SP3

4.15.1.SP2

4.15.1.SP1

4.15.1

4.14.3.SP1

4.14.3

4.14.2.SP1

4.14.2

4.14.1.SP1

4.14.1
MAURISWEB
Our Maurisweb web studio is engaged in the development of automated online stores and marketplaces, as well as individual modules. We have been working since 2014, and during this time we have created more than 300 modules for the CS-Cart and CS-Cart Multi-Vendor platform. 
For you, we have developed packages of modules and services for the development of online stores and marketplaces in the all-inclusive format: MWP - DBS in 15 days, eCommerce DBS in 30 days and FBO, FBO+, DBS, FBS in 90 days.