Please sign in so that we can notify you about a reply
Addon to CS-Cart and Multi-Vendor allows you to connect your store with internet payments system. PayU offers wide range of methods that cover almost 100% of polish online payments. Except basic channels of payments, like online transfers and credit cards, PayU enables payments via PayPal.
Use comfortable solution to proceed payments. Instant information about completing payment shortens order realizing time. PayU guarantees safety of transactions and data confidentiality.
PayU supports online transfers, credit cards, cash payments, SMS Premium, mobile payments. PayU not only guarantees transaction completion, but also shortens time of realizing it. Only few minutes are needed to pay for the order. Advantages of online payments are:
order is paid few minutes after placing it
transfers are automatically tracked, there is no need to analyze account bill to find transaction
order can be realized instantly after placing it
if there are delays in transaction completion, vendor can check its status
customer can pay in advance without worrying that it will make order realizing last longer
there is no need to type transfer amount or vendor data, that prevents from making mistakes
speed, comfort and safety (customer must only log into bank site and confirm transfer – everything else, including logout, is made automatically)
We start from installing an extension:
Next we configure e-mail notification settings:
PayU payment is available under "Payment methods" tab.
Payment has automatically set PayU template:
In "Configure" tab we type keys that we get after registering PayU account:
During checkout, a PayU payment can be chosen.
We invite you to shopping!
Product
CS-Cart

Multi-Vendor

CS-Cart Ultimate

Multi-Vendor Ultimate

Multi-Vendor PLUS
Compatible versions
4.14.3

4.14.2.SP1

4.14.2

4.14.1.SP1

4.14.1

4.13.3

4.13.2.SP2

4.13.2.SP1

4.13.2

4.13.1

4.12.2

4.12.1

4.11.5

4.11.4

4.11.3

4.11.2

4.11.1

4.10.4.SP1

4.10.4

4.10.3

4.10.2

4.10.1

4.9.3

4.9.2

4.9.1

4.8.2

4.7.4

4.6.3

4.5.2

4.4.3

4.3.10

4.2.4

4.1.5

4.0.3
SoftSolid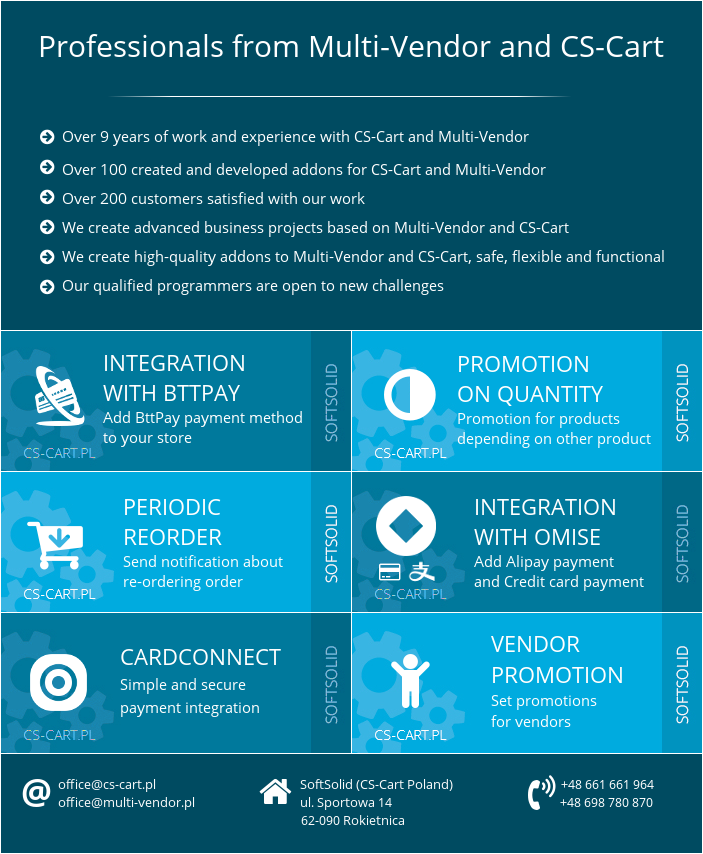 Our team created 100+ functional, original and useful Multi-Vendor and CS-Cart addons. Since 2010, when SoftSolid became CS-Cart and Multi-Vendor official developer, we deliver you professional solutions for e-commerce projects. The highest quality of our projects is confirmed by dozens of satisfied customers. We always try to make our addons intuitive and user-friendly and skilled programmers in our team can create almost every addon that you may need. Contact us