MODULE "AUTOFILL OPTIONS IN THE PRODUCT CARD" FOR MULTI-VENDOR
The module automatically fills in the options in the product card, provided that the buyer has already added at least one product to the cart. The options are filled in based on the information entered by the buyer when buying the first product.

Option Type: Text
Options with the "Text" type are used when the seller needs to get some information about the buyer. There are several examples for the sale of goods and/or services:
Car brand when selecting auto parts;
Individual clothing size when ordering custom tailoring;
Software with entering the site domain for the license;
Repair of equipment with the input of the name of the equipment;
Apartment parameters when buying or renting
Entering a phone number to identify the customer
Receiving any additional information from the client.
The bottom line is that when purchasing several products, the buyer has to enter the same data over and over again. This may cause irritation. A person is too lazy to write the same thing once again, which is why he makes fewer purchases.

In order to reduce the number of actions performed by the buyer during the purchase, which means to increase the conversion, we have created the module "Autofill options in the product card".
Module functionality
The module saves information about how the buyer filled out the options for the first product that he put in the basket, and in the future will automatically pre-fill this information in the options when the buyer views new products.
As a result, the buyer, when he decides to purchase the next product, will not have to waste time and make extra efforts to fill in the options. This makes it easier for the buyer to make a decision about purchasing additional goods.
Example
As an example, we can give our own website, where to purchase a module, you need to specify the main and additional domains.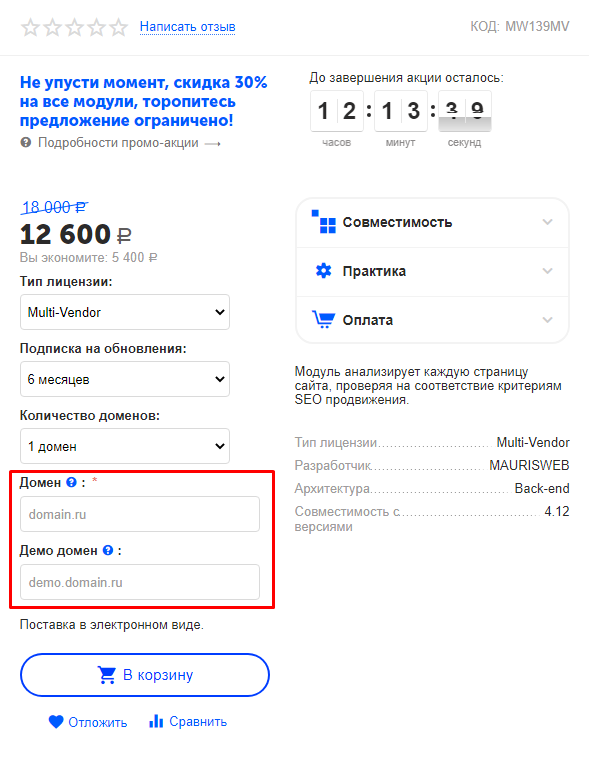 When buying the first module, the buyer enters the domain on which the module should work and adds the product to the cart.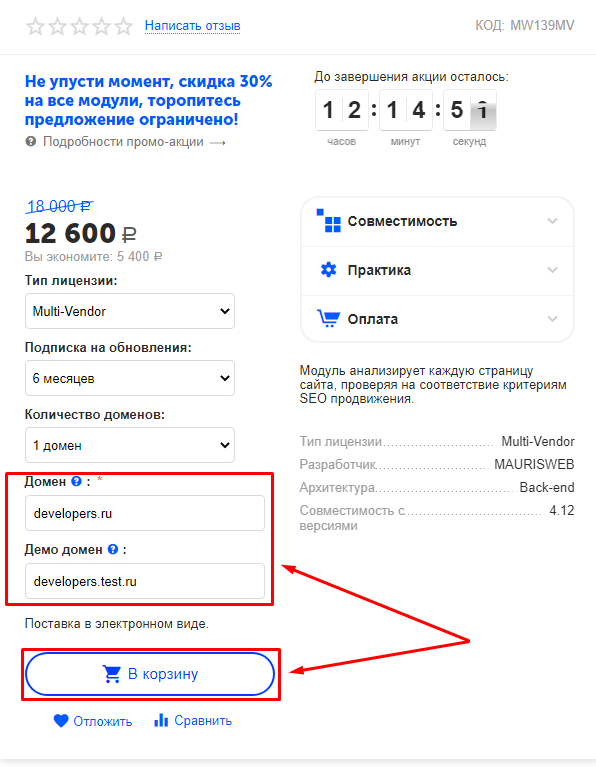 When the buyer enters the next product, the options will already be filled with the data entered by him.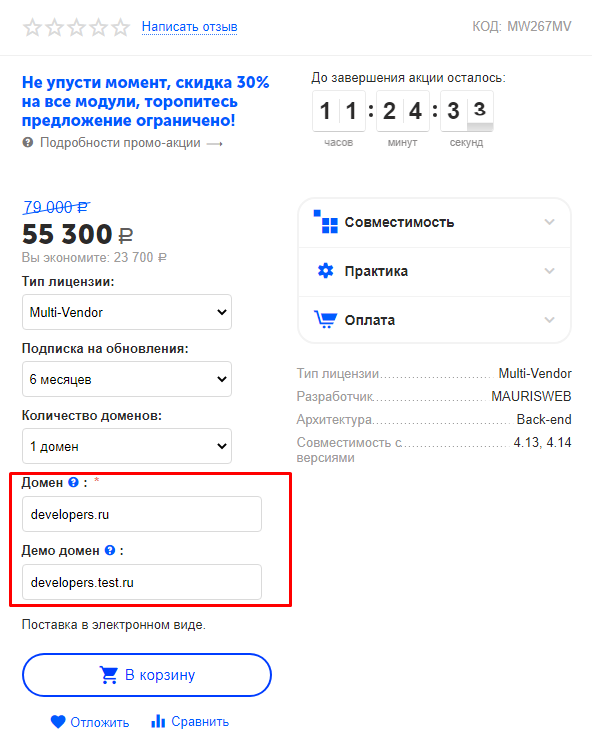 Before writing this module, on average 1-2 modules were purchased from us at a time, now, after writing and installing a new module, the number of modules purchased at a time has increased from 5-10 pieces. 
---
Detailed step-by-step instructions for the module can be found atMaurisweb.ru/help - section"Help". 
CONTACTS
Modification of the module – e-mail: sales@maurisweb.ru or contact via WhatsApp, Telegram at +7(923)364-90-07.
Technical support – e-mail: info@maurisweb.ru. 
In case of problems with the operation of the MAURISWEB modules or other developers, create an application via" Error debugger", describing your problem in detail.
Payment type
One-time payment
Product
Store Builder

Multi-Vendor

Store Builder Ultimate

Multi-Vendor Ultimate

Multi-Vendor Plus
MAURISWEB