Please sign in so that we can notify you about a reply
Addon to CS-Cart and Multi-Vendor allows you to discount cheapest or most expensive product in cart. For example, it customer will have 3 or more products in cart, the cheapest or most expensive will be discounted. Promotion can be linked with other promotion, ex. make is depend on amount of products from defined category in basket.

We start from installing an extension:
In extension configuration we can set notifications that inform about conditions that must be filled to use promotion:
In promotion condition we set discount for cheapest/most expensive product in cart and eventually we add other conditions. List of additional conditions is shown below:
Below we see configured promotion for cheapest products from defined category, if there are 3 or more unique products in cart.
Condition "[PDPIC] - Number of different products in the basket" comes from other add-on developed by our team and was used here to illustrate possibilities of discounting different products. Add-on can be purchased here: https://marketplace.cs-cart.com/promotions-number-of-diffrent-products-in-basket.html

In "Bonuses" tab we set discount which we give to cheapest/most expensive product:
Below we see notice that shows which conditions needs to be filled to use promotion:
Add-on also contains special condition, which defines how many products will be discounted. Below we're setting this condition to 2, which means two different cheapest products will be discounted:
In cart, discount was applied for two cheapest products. Price of third product remains unchanged. If there would be more products in cart, still only two with lowest price would be discounted:
We invite you to shopping!
Product
CS-Cart

Multi-Vendor

CS-Cart Ultimate

Multi-Vendor Ultimate

Multi-Vendor PLUS
Compatible versions
4.14.1.SP1

4.14.1

4.13.3

4.13.2.SP2

4.13.2.SP1

4.13.2

4.13.1

4.12.2

4.12.1

4.11.5

4.11.4

4.11.3

4.11.2

4.11.1

4.10.4.SP1

4.10.4

4.10.3

4.10.2

4.10.1

4.9.3

4.9.2

4.9.1

4.8.2

4.7.4

4.6.3

4.5.2

4.4.3

4.3.10

4.2.4

4.1.5

4.0.3
SoftSolid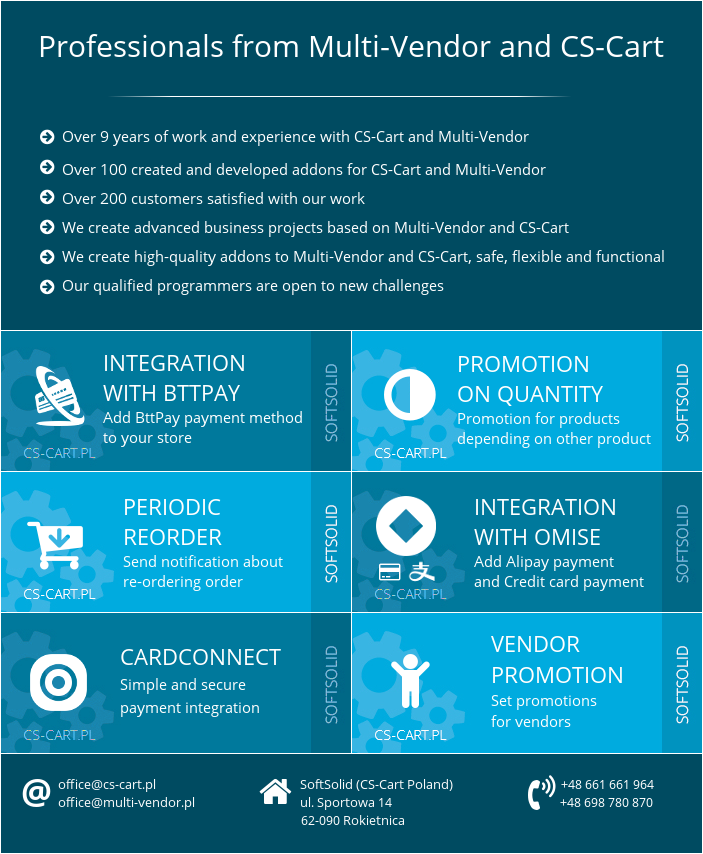 Our team created 100+ functional, original and useful Multi-Vendor and CS-Cart addons. Since 2010, when SoftSolid became CS-Cart and Multi-Vendor official developer, we deliver you professional solutions for e-commerce projects. The highest quality of our projects is confirmed by dozens of satisfied customers. We always try to make our addons intuitive and user-friendly and skilled programmers in our team can create almost every addon that you may need. Contact us