Addon to CS-Cart and Multi-Vendor makes easier searching product during creating promotions.
We start from installing the extension:

In extension configuration we have two options that displays filters or features in searching form, when you are creating promotion:

Extension is used when we create and we use promotion condition with products:

After clicking "Add product" button, a product searching form extended with fields associated with featues and filters will be shown:

Using grey arrows on left side, we can set searching criteria depending on filters or features: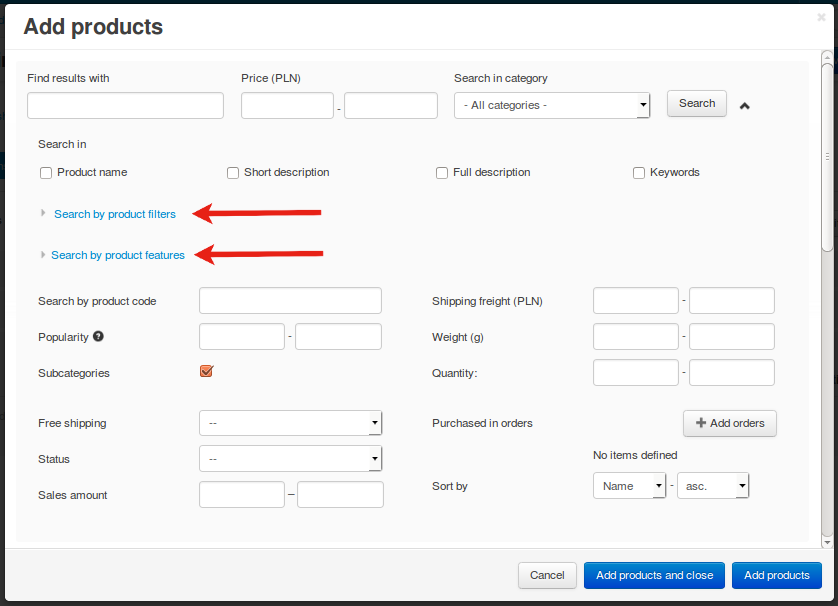 Now we have new searching criterias, that help us to search product that we want to promote.
Enjoy!
Payment type
One-time payment
Product
Store Builder

Multi-Vendor

Store Builder Ultimate

Multi-Vendor Ultimate

Multi-Vendor Plus
Compatible versions
4.17.1

4.16.2

4.16.1

4.15.2

4.15.1.SP4

4.15.1.SP3

4.15.1.SP2

4.15.1.SP1

4.15.1

4.14.3

4.14.2.SP1

4.14.2

4.14.1.SP1

4.14.1

4.13.3

4.13.2.SP2

4.13.2.SP1

4.13.2

4.13.1

4.12.2

4.12.1

4.11.5

4.11.4

4.11.3

4.11.2

4.11.1

4.10.4.SP1

4.10.4

4.10.3

4.10.2

4.10.1

4.9.3

4.9.2

4.9.1

4.8.2

4.7.4

4.6.3

4.5.2

4.4.3

4.3.10

4.2.4

4.1.5

4.0.3
SoftSolid
Our team created 120+ functional, original and useful Multi-Vendor and CS-Cart addons. Since 2010, when SoftSolid became Multi-Vendor and CS-Cart official developer, we deliver you professional solutions for e-commerce projects. The highest quality of our projects is confirmed by dozens of satisfied customers. We always try to make our addons intuitive and user-friendly and skilled programmers in our team can create almost every addon that you may need. Contact us and