Please sign in so that we can notify you about a reply
Add-on to Multi-Vendor allows setting up commission separately for each product sold by vendors.
We start from installing an extension:
Add-on does not require any additional configuration. During product edition, administrators can set up individual commission taken from a product, or disable it completely. Default commission for all products is 0.00, which means it's calculated basing on standard vendor plans.
We invite you to shopping!
Product
Multi-Vendor

Multi-Vendor Ultimate

Multi-Vendor PLUS
Compatible versions
4.14.3

4.14.2.SP1

4.14.2

4.14.1.SP1

4.14.1

4.13.3

4.13.2.SP2

4.13.2.SP1

4.13.2

4.13.1

4.12.2

4.12.1

4.11.5

4.11.4

4.11.3

4.11.2

4.11.1

4.10.4.SP1

4.10.4

4.10.3

4.10.2

4.10.1

4.9.3

4.9.2

4.9.1

4.8.2

4.7.4

4.6.3

4.5.2

4.4.3

4.3.10

4.2.4

4.1.5

4.0.3
SoftSolid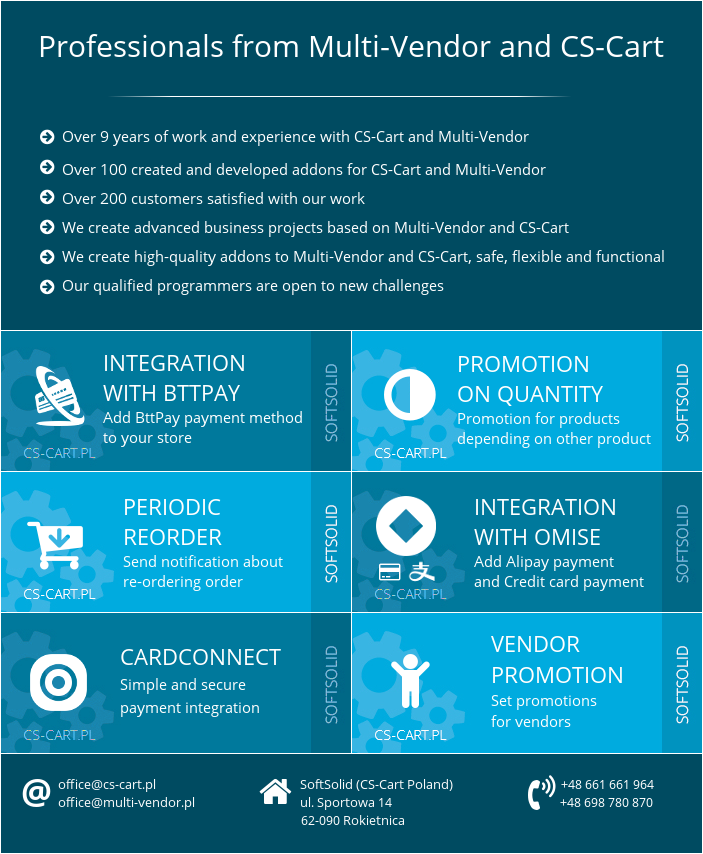 Our team created 100+ functional, original and useful Multi-Vendor and CS-Cart addons. Since 2010, when SoftSolid became CS-Cart and Multi-Vendor official developer, we deliver you professional solutions for e-commerce projects. The highest quality of our projects is confirmed by dozens of satisfied customers. We always try to make our addons intuitive and user-friendly and skilled programmers in our team can create almost every addon that you may need. Contact us