Boost your newsletter tribe effortlessly!
With the Subscribe Popup, capture your audience's attention just as they begin to explore your page.
Dive into a seamless way to expand your email community.
Popup works with both add-ons "E-mail marketing" and "Newsletters".

Subscribed emails are stores in the same place as default subscribe block for add-on:
"E-mail marketing" subscribers can be found under menu Marketing > Subscribers and are synchronised with MailChimp or MadMimi depending on your add-on setup
"Newsletters" subscribers can be found under menu Marketing > Newsletters > Subscribers and needs to be created at least one mailing lists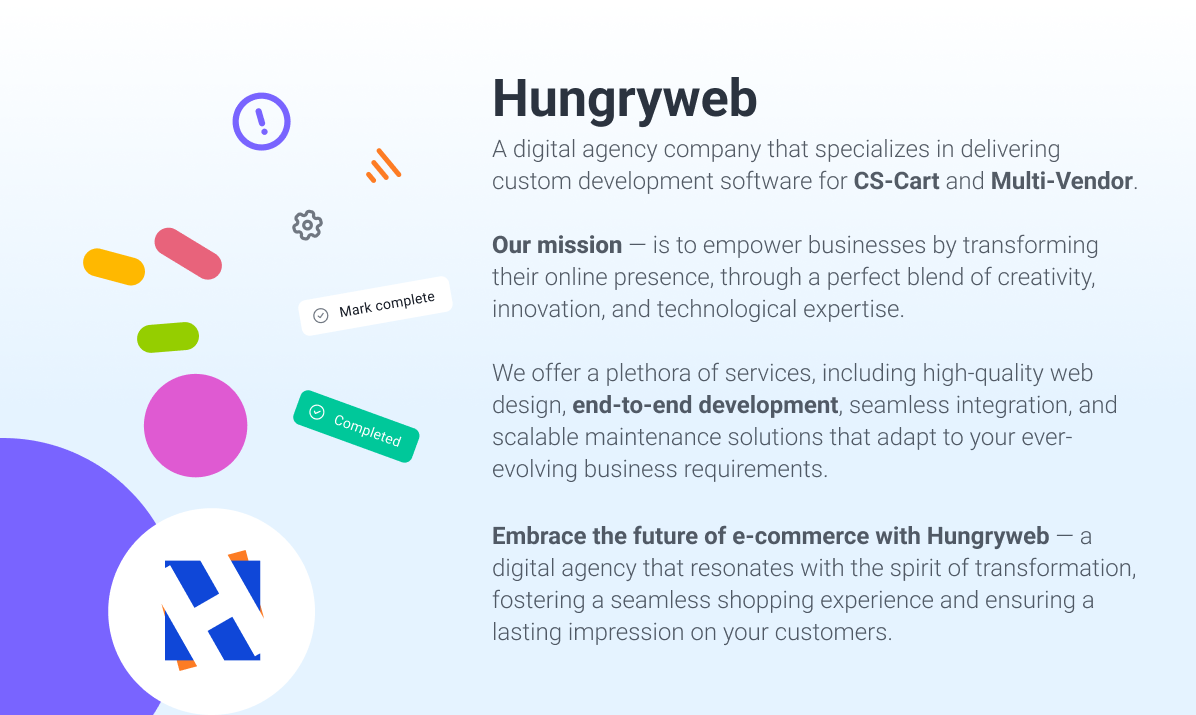 Payment type
One-time payment
Product
Store Builder

Multi-Vendor

Store Builder Ultimate

Multi-Vendor Ultimate

Multi-Vendor Plus
Compatible versions
4.17.1

4.16.2

4.16.1

4.15.2

4.15.1.SP4

4.15.1.SP3

4.15.1.SP2

4.15.1.SP1

4.15.1

4.14.3

4.14.2.SP1

4.14.2

4.14.1.SP1

4.14.1

4.13.3

4.13.2.SP2

4.13.2.SP1

4.13.2

4.13.1

4.12.2

4.12.1

4.11.5

4.11.4

4.11.3

4.11.2

4.11.1

4.10.4.SP1

4.9.3

4.9.2

4.9.1

4.8.2

4.7.4

4.6.3

4.5.2

4.4.3
Hungryweb
Hungryweb is a distinguished software firm with a core focus on delivering sophisticated eCommerce solutions through the utilization of CS-Cart and Multi-Vendor platforms. Our dedicated team of seasoned developers and designers tirelessly endeavors to ensure that merchants gain access to the latest and most streamlined web stores available.