Please sign in so that we can notify you about a reply
Addon to Multi-Vendor, Multi-Vendor PLUS, Multi-Vendor Ultimate allows creating promotions for vendors.
We start from installing an extension:
Next we choose method of calculating discounts when giving discount for order from vendors:
To create promotion, you need to open product promotion and in tab "Conditions" choose vendors which products will be discounted.
Here we create promotion, which gives 50% discount to all products of three vendors.
After adding ACME products to cart, customer gets discount.
Discount is also visible in vendor's store.
Extension also allows creating cart promotions, which are linked to vendors. Below we see an promotion, where customer has to buy products only from three chosen vendors, and their sum must be greater than 100$:
Promotion gives 50% discount for products from chosen vendors.
It is also possible to set the promotion to work only for products from condition "Products". This functionality is especially useful is promotion should cover only small range of products.
Add-on also allows giving bonuses on entire order from vendors. Here we give a 50$ discount for sum of products from two vendors, no matter how many products customer added:
Vendors can create custom promotions, using his administrator panel. They have access to Marketing menu and are able to manage their own promotions.
Vendor can create his own cart and catalog promotions, which have restrictions to vendor plan categories and vendor products.
Add-on also allows setting free shippings precisely, separate for each vendor. In below example, all three vendors get free shipping "Poczta Polska":
It is also possible to set multiple promotions, to give different vendors different free shippings. Here vendor Mitch and Dawson has free shipping "Poczta Polska":
and vendor Acme Corporation - shipping "Przesyłka kurierska"
If customer adds products of both vendors to cart and proceeds to checkout, shipping costs will be changed.
We invite you to shopping!
Product
Multi-Vendor

Multi-Vendor Ultimate

Multi-Vendor PLUS
Compatible versions
4.14.1.SP1

4.14.1

4.13.3

4.13.2.SP2

4.13.2.SP1

4.13.2

4.13.1

4.12.2

4.12.1

4.11.5

4.11.4

4.11.3

4.11.2

4.11.1

4.10.4.SP1

4.10.4

4.10.3

4.10.2

4.10.1

4.9.3

4.9.2

4.9.1

4.8.2

4.7.4

4.6.3

4.5.2

4.4.3

4.3.10

4.2.4

4.1.5

4.0.3
Vince Dimanno
Verified purchase
SoftSolid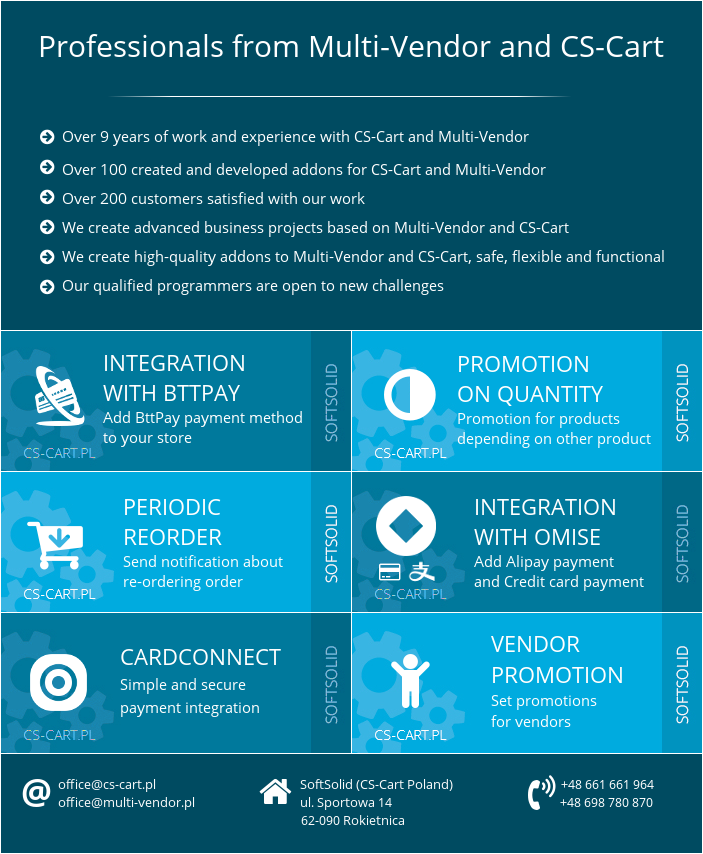 Our team created 100+ functional, original and useful Multi-Vendor and CS-Cart addons. Since 2010, when SoftSolid became CS-Cart and Multi-Vendor official developer, we deliver you professional solutions for e-commerce projects. The highest quality of our projects is confirmed by dozens of satisfied customers. We always try to make our addons intuitive and user-friendly and skilled programmers in our team can create almost every addon that you may need. Contact us