This CS-Cart addon allows you to publish daily deals in your shop. It is the unique opportunity to increase your selling by the effective promotion of certain products on the discount.
Merchant Benefits
Publish daily offers in your store. Attract your visitors with the effective presentation of promoted products. It is a powerful marketing tool to increase sales. With our cs-cart add-on, that becomes very simple. CS-Cart Deal of the day has 10 unique, amazing themes and 5 beautiful effects of product rotation. Deal add-on helps you to show your Discounts Product list on any page of your shop. You can choose to show the deal at present, in the future or the deal which has expired with the promotion settings.
The time is ticking - don't miss the opportunity!
Main Features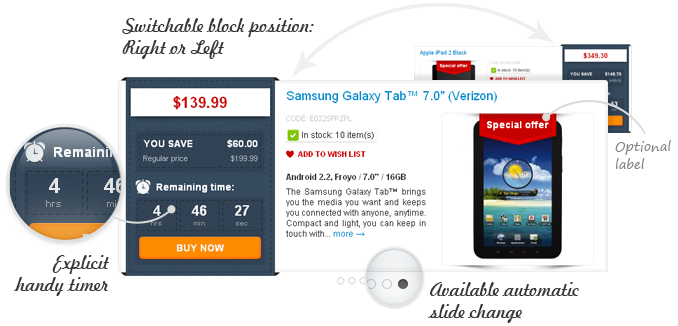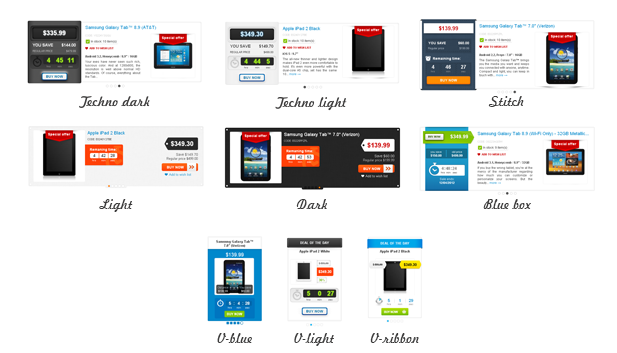 6 horizontal themes and 4 vertical themes
5 unique transition effects
Switchable sidebar position in horizontal themes: left or right
Works only with "Catalog" promotions
Special condition for promotions - "Products Deal Of The Day"
Available period in hours
Optional "Special offer" label
Works with products from "Promotions" section
Add as many daily offers as you wish
Choose the launch date and specific quantity of the offer
Decide, whether disable product after the deal ends
Unlimited number of products
Supports AutoPlay option
Option to stop animation while hovering
Option to show timer line
Delay between slides
Slide transition speed
Supports control navigation
Supports multi instances on the same page
Doesn't affect CS-Cart core files
How it works
View all video tutorials on our website
Upload add-on files from the archive to the server
Install the add-on in the add-ons section
Create a new promotion with a special type Products Deal of the Day in the Promotions section and add products that should have a discount. Necessarily specify the promotion period and discount on products.
Add block with type Deal of the day via block manager on any page. Choose the decoration theme and campaign that should be shown in this block. Change the theme settings if necessary
Need help?
This CS-Cart add-on is developed and published by CartTuning, CS-Cart developer.
You are guaranteed to buy a quality add-on and to get fast and efficient tech support in case you need it via our help desk system.
Product
Store Builder

Multi-Vendor
Compatible versions
4.2.4

4.1.5

4.0.3

3.0.6

2.2.1
CartTuning
CartTuning is reliable partner that offers an extensive selection of cs-cart addons and templates with a wide range of services.
CartTuning is reliable partner that offers an extensive selection of cs-cart addons and templates with a wide range of services.